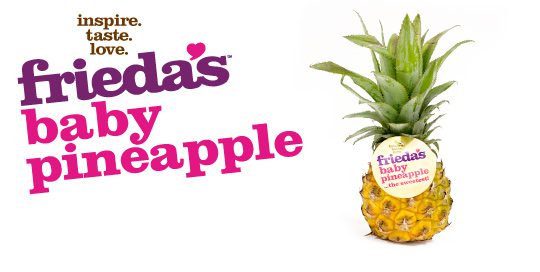 Overview
What is a Zululand Queen Baby Pineapple?
Adorable miniature pineapple grown exclusively in South Africa. Intensely sweet golden flesh and soft edible core. The entire fruit measures just 5 inches high.
How to Eat
Use this superbly sweet pineapple as you would a regular pineapple. Also beautiful addition to fruit baskets or a decorative table centerpiece.
Internet Explorer users may not be able to view this video.
Health Benefits
Excellent source of vitamin C.
How to Choose
Choose fruit that is golden in color and very aromatic.
How to Store
Because pineapples develop dark spots from temperature changes, if it is purchased chilled, keep it refrigerated; and if it was bought at room temperature, keep it at room temperature.
When are they in season?
Where are they grown?
Recipes
Papaya Fruit Meringues Ingredients: 2 Frieda's Papayas or Zululand Queen Baby Pineapples, halved and seeded or cored 1 cup fresh Frieda's Cherimoyas or Kiwifruit, or peaches or nectarines, chopped 3 egg whites 1/2 teaspoon vanilla 1/8 teaspoon cream of tartar … Continue reading →
Pineapple Coconut Smoothie Ingredients: 1 Young Coconut, liquid reserved (about 2 cups coconut water; 1 cup coconut meat) 2 Zululand Queen Baby Pineapples, peeled and chopped (about 1 1/2 cups) 1/2 banana, peeled and sliced into thick rounds 2 tablespoons … Continue reading →