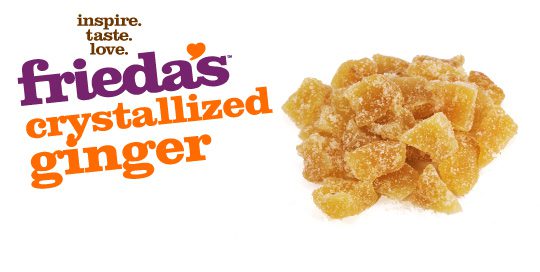 Overview
What is Crystallized Ginger?
Dried, preserved ginger root with a light sugar coating. Pungent, spicy-sweet flavor and moist, chewy texture.
How to Use
Chop and add to salads, stir frys or use as a beautiful topping for desserts such as vanilla ice cream. Some enjoy straight from the bag as a candy-like treat to soothe motion sickness.
Health Benefits
Crystallized Ginger is a natural remedy for motion sickness.
How to Store
Store in a cool, dry place up to 6 months. Once opened, store in a plastic bag or container.
When are they in season?
Where are they grown?
Recipes
Exotic Sundae Sauce Ingredients 1/2 cup light corn syrup 1/3 cup chopped Frieda's Crystallized Ginger 1/2 cup cream 1/4 cup butter 1/2 teaspoon vanilla Steps In saucepan, mix corn syrup, ginger and 1/4 cup cream. Simmer 5 minutes. Gradually add … Continue reading →