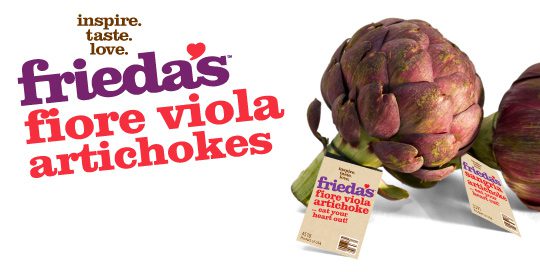 Overview
What is a Fiore Viola Artichoke?
Exclusively available from Frieda's, these large, beautiful artichokes have rich purple leaves and round, globe-like shape. They have consistently meaty leaves and a sweet artichoke flavor. Fiore Viola Artichoke are grown from a proprietary new seed variety and are only in season for a limited time.
How to Eat
To prepare, rinse, trim 1 inch off the top of the artichoke, then trim half inch off the bottom stem. Slightly spread open the petals. Place in water with lemon juice to prevent browning before cooking. Steam to cook, then serve with dipping sauces such as mayonnaise or balsamic vinegar. After enjoying the leaves, scoop out the fuzzy center "choke" prior to eating the inner heart.
Watch This Video
Health Benefits
Excellent source of folate, good source of vitamin C, and provides fiber.
How to Choose
Choose artichokes that are heavy and have firm leaves.
How to Store
Artichokes should keep for 4 to 5 days if you store them unwashed, in a plastic bag, in the refrigerator. If the stems are still attached, you can stand the artichokes upright in a bowl of water as you would cut-flowers, then refrigerate.
When are they in season?
Season varies from year to year. Approximately February through April, and September through October.
Where are they grown?
Recipes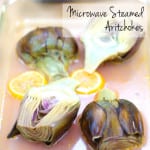 Microwave Steamed Artichokes Ingredients 2 large artichokes, such as Sangria artichokes, Fiore Viola artichokes, or globe artichokes 1 Meyer lemon (or regular lemon), cut in half Additional lemon slices (optional) 2 tablespoons extra virgin olive oil 1/2 cup water Salt … Continue reading →
Nutrition