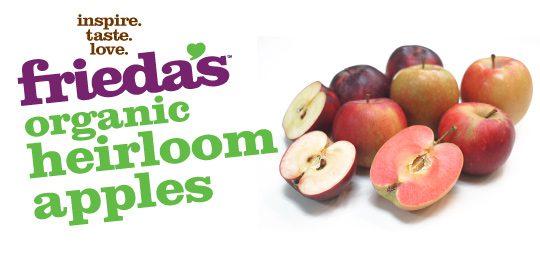 Overview
What are Organic Heirloom Apples?
"Heirloom" refers to varieties dating back to earlier periods in human history. There are hundreds of Heirloom Apple varieties, including Pink Pearl,

Cox's Orange Pippin

,

Cortland

,

Ribbston Pippin

,

King David

,

Orleans Reinette

,

Ashemead's Kernel

, Mutsu, Grimes Golden, White Winter Pearmain,

Ashmeads Kernel

, Calville Blanc, Spitzenburg, Northern Spy,

Roxbury Russet

, Golden Russet, Arkansas Black, and Winesap. These apples are crisp with sweet to tart flavors. Colors range from green-gold and red-orange, to orange blush and copper-reddish gold.

All of Frieda's Heirloom Apples are organic.
How to Eat
Enjoy fresh out of hand, in baking or any recipe that calls for apples. Their beautiful appearance can be used as decoration.
Health Benefits
Eating apples helps protect your bones and can lower your cholesterol.
How to Choose
Choose firm fruit with little to no bruises or gashes. Store refrigerated for 1 to 2 weeks.
How to Store
Store refrigerated for 1 to 2 weeks.
Recipes
Mini Heirloom Apple Pies Original recipe and photo by Eric Samuelson / Eat Like No One Else Ingredients Pies 1 pie dough recipe 3 medium-sized organic heirloom apples (1 per mini pie) 1 teaspoon ground cinnamon 1 teaspoon ground ginger … Continue reading →
Save
Save