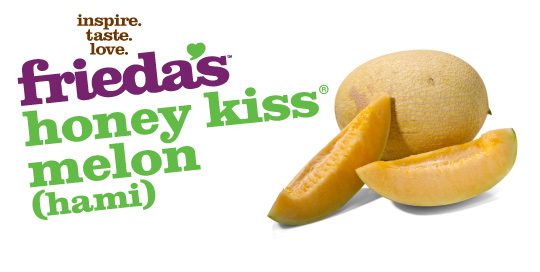 Overview
What is a Honey Kiss® Melon (Hami)?
This oblong, Chinese-style melon features a golden rind with light netting and a beautiful salmon-colored flesh. The flavor is crisp, refreshing and unique. There is no other melon like it! It is sometimes marketed as Honey Kiss® Melon.
How to Eat
Slice and enjoy wedges, scoop out flesh into attractive melon balls, top ice cream with melon chunks.
Health Benefits
How to Choose
Look for firm, symmetrically shaped melons with a good golden rind color.
How to Store
Ripen at room temperature. Refrigerate cut melon and enjoy within 1 week.
When are they in season?
Where are they grown?
Recipes
Summer Fruit Kabobs Ingredients: Half of Golden Kiss®, Honey Kiss® or Sugar Kiss® melon, seeded and chopped 2 apples, sliced into bite-sized chunks 10 – 15 strawberries, whole or halved 2 kiwifruit, peeled and sliced 2 bananas, sliced into 2-inch … Continue reading →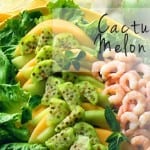 Cactus Pear Melon Salad with Mint Dressing Ingredients: Lettuce leaves 3 Frieda's Cactus Pears, peeled and thinly sliced 1 Frieda's Honey Kiss Melon, or cantaloupe seeded and sliced 2 cups cooked bay shrimp Mint Dressing: 2 tablespoons white vinegar 2 … Continue reading →