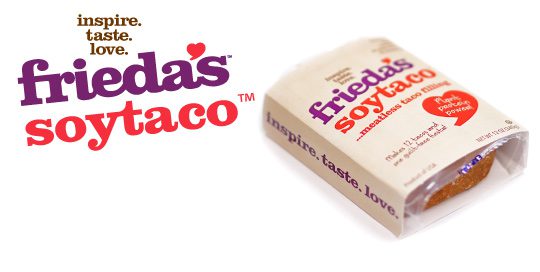 Overview
What is SoyTaco™?
This pre-cooked soy-based meat alternative has the delicious flavoring of ground meat blended with zesty taco seasoning.
How to Eat
Heat in a non-stick pan with a tiny amount of oil to warm and slightly brown. The more you heat it the drier it becomes. Use instead of ground meat for tacos, enchiladas, nachos or add to chili, burgers or meatloaf.
Health Benefits
No cholesterol, a low-fat source of vegetarian protein, and gluten-free!
How to Store
Keep refrigerated at all times. May be frozen before opening.
When are they in season?
Where are they grown?
Recipes
SoyTaco™ Mexican Lasagna Ingredients: 1 onion, chopped 1 clove Frieda's Elephant Garlic or 3 cloves garlic, chopped 2 packages Frieda's SoyTaco™ 2 14 ounce cans sliced tomatoes 1 1/2 cups prepared red chile sauce Olive oil spray 1/2 to 1 … Continue reading →
SoyTaco™ Stuffed Peppers Ingredients: 1 medium onion, chopped 1 clove Frieda's Elephant Garlic or 3 cloves garlic, chopped 1 12 ounce package Frieda's SoyTaco™ 1 tablespoon canola or vegetable oil 1 cup cooked rice 1 cup tomato sauce 1/4 cup … Continue reading →