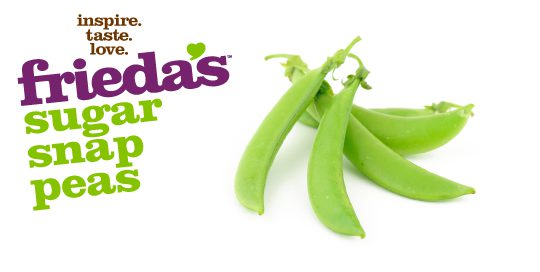 Overview
What is a Sugar Snap Pea?
Sugar Snaps are crisp, edible pea pods filled with tiny, sweet, crunchy peas. These particular peas are relatively stringless and are a cross between Chinese snow peas and English peas.
How to Eat
Snip off stem ends and remove string if present. Enjoy alone as a snack with sauce for dipping. Sugar snap peas may be added to salads and stir-frys, steamed or lightly cooked in sauce.
Health Benefits
High in vitamin C, vitamin A and fiber.
How to Choose
Choose smooth, bright green pods that are filled with peas.
How to Store
Refrigerate in plastic bag for up to 5 days.
When are they in season?
Where are they grown?
Product of U.S.A, Mexico, and Guatemala
Recipes
Red Onion & Snap Pea Salad Ingredients 2 cups torn romaine lettuce 1 1/2 cups thinly sliced bok choy leaves and stems 1 1/2 cups sugar snap peas, halved crosswise, stringed and blanched if desired 1/2 red onion, thinly sliced … Continue reading →