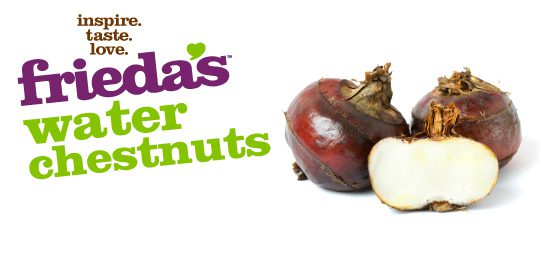 Overview
What is a Water Chestnut?
Fresh Water Chestnuts are cultivated throughout China and more recently in the U.S. They are sweet and refreshing with a crunchy texture similar to Jicama. Water Chestnuts are corms — underwater bulbs that grow stems or sprouts.
How to Eat
Rinse and peel or pare away outer skin. Boil or steam for use in soups, salads, stews, and stir-frys or slice on salads.
Health Benefits
How to Choose
Choose hard nuts with a slight sheen.
How to Store
Refrigerate in water up to 2 weeks.
When are they in season?
Where are they grown?
Product of China and U.S.A
Recipes
Steamed Garden Vegetable Medley Ingredients: 2 cups broccoli florets 1 cup Frieda's Baby Carrots or regular carrots One pound package Chop Suey Vegetables ½ cup Frieda's  Fresh Waterchestnuts, peeled and sliced, or canned sliced waterchestnuts, drained 2 tablespoons butter or … Continue reading →