Owls are such interesting animals. When I did a little research, I found out that owls represent wisdom, knowledge, change, transformation, intuitive development, and they are associated with trusting the mystery. They are tied to the spiritual symbolism of death, which brings about new beginnings with a higher understanding and evolved perspective. Owls can show up when you are being asked to listen to your intuition.
Funny thing is, my youngest daughter Sophia (whose name means "wisdom") has always loved owls. When we went to Auckland, New Zealand, together three years ago, we found owl statues all over the city.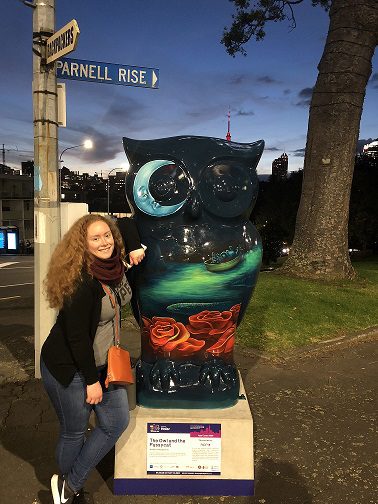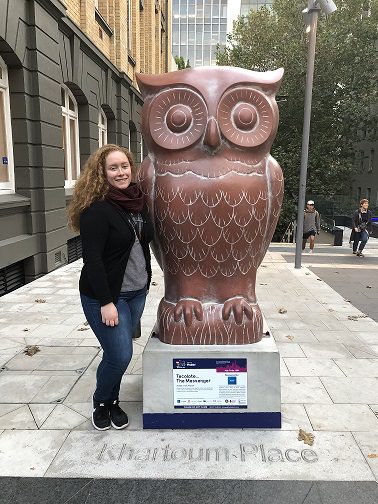 (My daughter Sophia posing with some of the owl statues we found in our visit to Auckland, NZ)
However, this is not the kind of owl I want to talk about. I want to talk about The Meeting Owl. 
In the last 18 months, our staff has become used to meeting via Zoom, when we were all working from our home offices. Now many of us are in hybrid mode. During a group meeting, some of the team may be in the office, while others may be remote in separate locations. (Frankly, it has gotten a little weird to continue having meetings via Zoom when all but one person is in the office.)
Enter, "The Meeting Owl."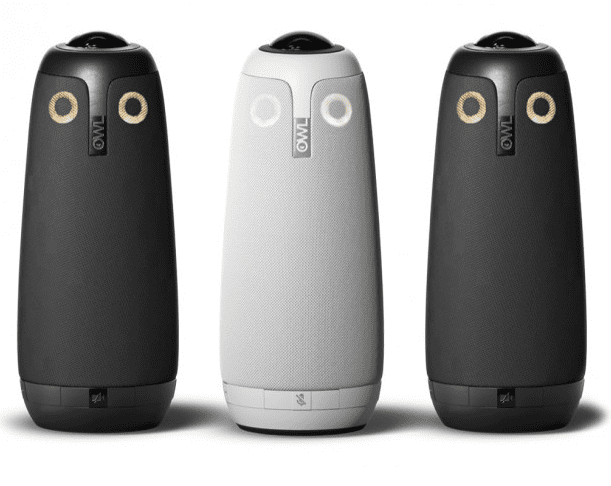 I was introduced to the Meeting Owl by a professional speaker who experienced the technology firsthand when speaking to a small group. Some of the attendees were in a room together and others were remote. The Meeting Owl sits in the center of your meeting table and offers much better sound quality than a laptop, plus it offers the benefit of multiple camera images captured from around the room. The guest speaker said it was great to be able to see everyone individually while he was presenting!
So, picture this: I am holding a team meeting in my corporate office conference room and five of us are sitting around the table. Three of our team members are remote from their local home offices. We want to share a PowerPoint presentation or spreadsheets to have a discussion during our meeting. Before, we would all have had to be at our desk on Zoom – meaning we missed the dynamics of sitting around a conference room table together.
Now with the Owl, we see all the remote people on the screen, and each remote person sees individual images of those of us sitting around the conference room table. When we speak, the owl naturally zooms into the image of the speaker and projects it separately on the share screen. And the sound quality is fantastic!
So, if you are experiencing Zoom fatigue with your team meetings and have a hybrid work environment,  check out the Owl. It's a brilliant invention!
Karen
If you follow me at all on social media, then you know that my life partner, Jack Daly, has had a few health challenges lately. And those health challenges have allowed us to see firsthand, up close and personal, the effect of a doctor's bedside manner.
While we were in Miami a few weeks ago, Jack started to have terrible, wrenching pain in his lower back. So bad that he could not lay down to sleep. So, at 4:00am in the morning, he woke me up and asked me to take him to the emergency room in Miami. Fortunately, Mercy Hospital was only a couple of miles away and when we arrived, there were only two or three other patients in the emergency room. I commented to the nurses that it seemed so quiet – all they did was smile and said it was quite a contrast to months before at the peak of COVID.
Dr. Salinas was the doctor on duty. After monitoring Jack, and assessing his pain, they ended up having to give him morphine. They did a CAT scan, to rule out a kidney stone. Just as we thought Jack was going to get discharged, Dr. Salinas walked back into the room and said, "I am concerned and saw something that doesn't look right, and I want to run another test. If you were a member of my family, this is what I would do."  I was stunned. And then Jack commented, "That makes perfect sense to me since it is in alignment with what you have written on the wall!" Jack was referring to their mission statement which was posted on the wall of each patient room:
Our Patient Promise: We are committed to excellence always in every action, every patient, every time. We treat you like you are family.
It's one thing to have a mission statement, but it's another to embrace it. And Dr. Salinas' personal care and concern that morning was amazing to watch. Admittedly, because it was a quiet morning in the E.R., we probably got a bit more attention, but it was refreshing to experience a doctor who was not rushed and demonstrated genuine care and concern.
(By the way, Jack's back is fine.  All three doctors he saw in the following weeks said he was probably exercising too much! Jack is a 15-time Ironman and is preparing to run Marathon #100 in Athens, Greece this December, so there is no stopping his training schedule).
Jack's current health challenge is the recurrence of Melanoma (skin cancer). Last year he had a growth removed from the top of his head and has been all clear since then. But about 6 weeks ago he found a lump on his neck. So back to the cancer surgeon and lots of tests. The melanoma has NOT spread and was completely contained in his lymph node. So he was referred to an Oncologist who would be treating him with the miracle drug, Keytruda, for a year.
I decided to go with Jack to his first appointment with the Oncologist, as I had many questions. Of course, the waiting two weeks for the appointment was quite stressful for both of us.
As we waited in the patient room, a person with a white coat came in. She seemed quite shy, kept her eyes down, and never made eye contact with us. She did not introduce herself, but did mention she was there to do a pre-exam before the Oncologist came in. Frankly, her introverted manner did not give us a lot of confidence. That's when I noticed that she wasn't Dr. Valerin (the Oncologist we were there to see). Turns out she was a resident who was doing her residency under Dr. Valerin's direction. The resident left the room as quickly and quietly as she entered.
A few minutes later Dr. Valerin came in. She greeted Jack, shook his hand, made eye contact, and smiled. She was positive, energetic and emphasized the positivity of the treatment plan. She let Jack know that she had collaborated with Jack's surgeon just a few minutes earlier and explained in detail what the treatment plan was. Due to Jack's busy travel schedule, I watched the two of them negotiate the frequency of his treatments. She was flexible (moving the infusion treatments from every 3 weeks, to every 6 weeks), but realistically detailed potential side effects.
And then she asked if we had any questions. Of course, I had about a dozen questions, which she patiently answered. Just before she was getting ready to leave the room, I had to comment.
I said, "Dr. Valerin, your approach was so different from the doctor that came in earlier. I'm so glad you are the one treating Jack."  She said, "Well, that was a resident and I would love your feedback as we train doctor's here, and the only way we can make them world-class doctors is to give them feedback." So, Jack and I shared our observations and she was most appreciative.
And that's when I realized – we had witnessed the difference a doctors' bedside manner can make. Dr. Salinas and Dr. Valerin both took a personal interest in their patient, made eye contact, and conversed with Jack so the assessment and treatment plan were well explained. I watched how Jack relaxed and had 100% confidence in his treatment plan, partially due to the way the doctor approached him.
Have you noticed this when you visit a doctor, go to the emergency room or have a procedure? When the doctor and nursing team take a personal interest in your well-being, and communicate openly and thoroughly, how you instantly feel better and your blood pressure goes down? Perhaps medical schools all over will start teaching classes on interpersonal communication and a link will be discovered linking kindness and care with faster recovery.
And that made me reflect on how I interact and how my team here at Frieda's interacts with others. For example, one of our employees had a recurring payroll issue this week. As I watched the emails go back and forth, I decided to go talk with the employee in person. I looked her straight in the eye, apologized for the issues she was experiencing, and assured her it would be resolved. But I did ask her for her patience….and trust. She looked me back directly in the eye and said, "I trust you."
And how about with customers and business associates? Do we sometimes avoid the big objections and concerns vs. acknowledging them directly? Are we so concerned with hearing ourselves talk, or defending our position, that we don't really listen for the real pain point? I think if more of us paid attention to our own "bedside" manner, that we would have better working relationships, faster solutions, and less stress.
By the way, in case you are wondering, after Jack's first infusion of Keytruda, we joked that it must be like kryptonite! It seems that Jack is back to his "superman" self and has started training for his upcoming three marathons. Dr. Valerin could not find the lump on his neck. We figure his positive attitude is already curing him.
Yes, a doctor's bedside manner can make a difference!
Karen
Three years ago, I was attending a board meeting of the University of California Agricultural Issues Center. I have been a member of this board for more than 20 years and have enjoyed having input on the kind of published research that is done at the university on the challenges facing California agriculture. The meeting was at U.C. Davis, which meant I flew from Long Beach to Sacramento for the day to attend the meeting. As per usual, about 15 of us (a mix of businesspeople, university staff and researchers) sat around a large conference table reviewing research and brainstorming.
As we went around the table introducing ourselves, I noticed a young female student seated three chairs from me. When she introduced herself, I quickly logged on to LinkedIn to find out more about her background. Like many students, her name on LinkedIn (Alexandra) was not the name she used regularly (Allie), so during the break I took the opportunity to mention that she should update her LinkedIn profile so people could easily find her. That's when I found out that Allie was graduating that year with a Bachelor of Science degree in Sustainable Agriculture and Food Systems. Her home was in Southern California and she did not yet have a post-graduation job or internship scheduled for the summer.
Allie was impressive as she presented to our group, so I immediately texted my sister Jackie that I thought I'd found the operations summer intern we were looking for! Of course Allie didn't know any of this, but during our lunch break, I cozied up to her at the table and asked her if she would like to visit our offices when she went home after graduation.
To make a long story short, even though I was on vacation when she came to visit, Allie came for a tour of Frieda's. My sister offered her an internship for the summer and Allie accepted. When the three-month internship was completed, we offered Allie a full-time position at Frieda's as our Product Growth Coordinator in the Planning Department.
Fast forward from 2018 to 2021, Allie is now an Associate Produce Buyer for us, married to her college sweetheart last month, and they spent two weeks vacationing in Costa Rica. When she got back from her honeymoon and was back at work, the first thing she did was send me an email suggesting a book to add to my reading list. Apparently one of her friends gifted her the book "Brave, Not Perfect" by Reshma Saujani, founder of the organization, Girls Who Code.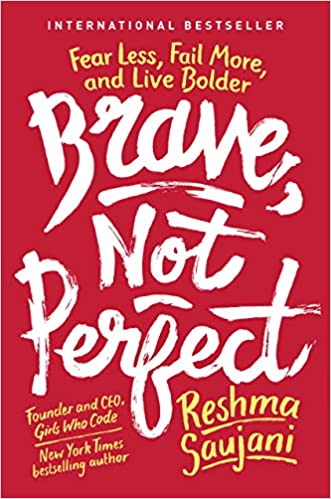 Allie told me that she read the book during her trip and wanted to get my impressions.
I finished the book earlier this week, as always listening to it via Audible. It was especially meaningful as Reshma, the author, narrated the book herself. I came to work today and asked Allie about how she was introduced to the book and what her impressions of it were. We had a fantastic conversation about the challenges many young women face in their careers and personal lives — trying to be the "perfect" version of themselves. What I got from the book was great advice about why it's OK to be brave, OK to fail, OK to mope around after failure, plus the importance of picking yourself up and moving forward. None of us is perfect and there is no need to be perfect. It's all a journey, our own personal journey.
So, thank you, Allie, for being brave enough to give me a book recommendation. Thank you for being open to doing an internship at Frieda's in operations after receiving the Most Outstanding Senior Award when you graduated. I'm sure there were many companies standing in line to offer you a job.
We are all so proud of Allie, as this past year, she participated in an industry apprenticeship program (sponsored by the local Fresh Produce & Floral Council), doing the entire 12-month program virtually due to the pandemic. It was not a surprise that Allie was selected by the other 11 members of her apprenticeship cohort to be the graduation speaker, making all of us proud during their virtual graduation.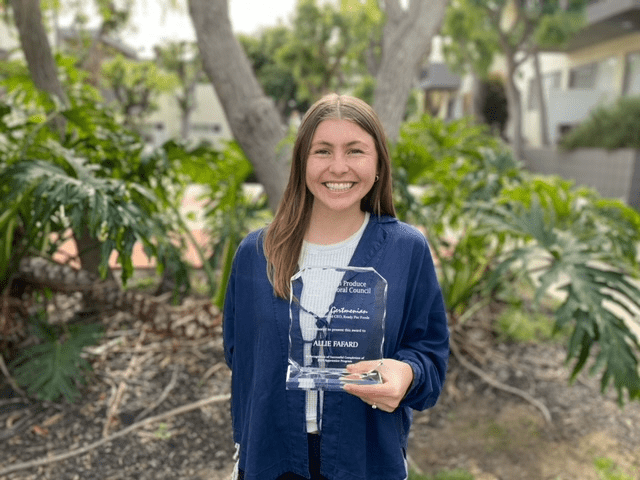 And many thanks to her U.C. Davis college mentor, Dr. Dan Sumner (a world-renowned agricultural economist), who whispered to me at that 2018 board meeting: "She is the best student project manager I've ever had! You should snap her up!"
Have a great 4th of July holiday weekend — celebrating our freedom and independence!
Karen