Over the years, I have heard people comment about experiencing identity theft. Things like: Someone applies for unemployment benefits using your social security number, or they open a credit card or apply for a loan in your name, or—worst case—they take money out of your bank account and you are not able to recover it.
I have not experienced identity theft myself, but a very close friend of mine did last week, so I have witnessed the hassles and havoc secondhand. It is as if someone has broken into your car or home and stolen all your credit cards, bank statements, etc., but way worse. When it happens, you feel violated. Imagine all your credit cards being cancelled and not being able to access the cash in your bank account. It's devastating.
I've learned there are several immediate action items I can personally take to lower my risk of the effects of identity theft to almost zero. And I wanted to share them with you with the hope that one or more of them will trigger you to take action.
Freeze (or lock) your credit on all three credit bureaus: Experian. Equifax. Transunion. I used to think it was overkill when my sister Jackie suggested I do that, but several years ago (after another friend had an issue) I locked my credit on all three websites, and I now sleep better at night. Even my own bank cannot do a credit check on me without contacting me to unlock my credit. Rest assured that you can unlock your credit for as short as one day. It's your quickest insurance that you will always know if someone else is trying to be you.
Don't click on text messages or emails that say they want to confirm a purchase on your credit card or bank account. If you are concerned that there might be a bogus charge, call the phone number on the back of your credit card to ask. If you suspect a phishing email, call your bank—most banks have a hotline to report phishing emails right on their website. I've reported phishing emails before. And beware of phone calls and voicemail messages with the same theme. They are likely frauds.
Don't use the same password for multiple accounts and logins. I used to be guilty of this, but after Google alerted me last year that one of my multiuse passwords was compromised, I changed all of my passwords. Yes, it was a pain in the neck, but again, deep inside I knew it was an easy way for someone to hack into my accounts.
Get an online password manager. I am guilty of having all my passwords written down in a small black book that I carry everywhere. However, after this past week, I decided that I wanted to move into the 21st century, and I have set up a www.dashlane.com account. Dashlane is just one of many top-rated online password manager programs. For reference, check out this recent article with more information on the top seven password managers. You can pick the one that's best for you. I'm still a novice user on Dashlane, and although it can be a bit tedious to set up, I can tell it will make my life easier in the future. My friend who is an interior designer—who had over 200 logins and passwords to remember—told me that using Dashlane has made her life much less complicated.
If you are worried about mail or packages getting stolen from your mailbox or front porch, sign up with the local UPS store to be your address of record. My friend, who travels a lot, said it has been a lifesaver. Bonus: If you ever order wine (which requires an adult signature), there is always an adult over 21 at the UPS store.
Ronald Reagan jokingly coined the popular phrase, "I'm from the government and I'm here to help" (calling the phrase "the nine most terrifying words in the English language") but, truly, there are two government websites set up to help with recovering from identity theft.
https://www.identitytheft.gov/#/
https://consumer.ftc.gov/features/identity-theft
I hope you picked up at least one new pointer to help you prevent identity theft. I would love to hear if you have other suggestions to share!
Karen
All four of my grandparents were born in Ukraine. In fact, up until February of this year, my distant cousin Vicki still lived there. She was fortunate enough to escape to rendezvous with her sister in Crete. She is in her mid-70s and will likely never be able to return to her homeland.
While my maternal grandfather Solomon was alive, I recall him traveling to Kiev (now Kyiv), and later showing us photos of a family gathering that was held during his visit. I still have those photos and planned many times of going to visit my cousin there … but alas, that will likely never happen.
So, you can imagine how helpless and heartbroken I feel when I watch the news about the war in Ukraine. For the last three months I have been thinking, what can I do?
Three things happened to me in the last few weeks that have made me feel that I can help.
First, I learned there is an International Committee of the Red Cross, based in Switzerland, and I made a financial contribution. ICRC has been working in Ukraine since 2014, so they were already in place on the ground when the conflict escalated. If you want to learn more and/or make a contribution, check it out:  www.icrc.org
Second, when I visited a dear friend of mine two weeks ago, he had a Ukrainian flag flying outside his house. When I inquired about it, he offered to give me one—along with a flagpole—and earlier this week I mounted it on our house. To me, it is a sign of solidarity of support and caring for our friends in Ukraine.
Third, I received an email from a dear food friend, cookbook author Joan Nathan. She is an award-winning author, food activist and influencer. Here is her email, entitled, "Neighbors for Ukraine Dinners":
Friends, we hope you will be as excited by this opportunity to host a
"Neighbors For Ukraine Dinner" as our neighbors were. Read on!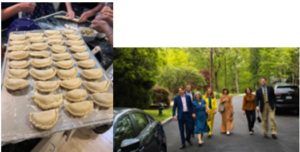 The Ukraine crisis has made so many of us realize how lucky we are and how quickly our comfortable lives can change. 
The war in Ukraine has touched every person and every institution in that country. Since February 24th more than 4 million Ukrainians have fled their homes. Eastern Europe is overwhelmed with refugees—mainly women and children—who have little means to support their basic needs. Food and water are hard to obtain, especially in smaller towns and in the eastern part of the country that has borne the brunt of Russia's brutal attacks. The fighting will not end. Violence will continue, but we can offer help by supporting organizations working in the field that provide a wide range of services to Ukraine in its hour of need.
In our neighborhoods, a few of us got together to brainstorm how to raise funds for the Ukrainian people by organizing cocktail receptions and dinners. 
Last week, we had our first neighborhood gathering—a progressive dinner where we raised over $25,000, mostly for World Central Kitchen, but also for International Center for Journalists, and Tikva Children's Home, an orphanage in Odessa. Below are suggestions for other charities. We envision "Neighbors for Ukraine Dinners" all over the country—and even the world. It is our hope that you might do this in your own way and most of all, have some fun while doing good.
Here is how we did it. 
Invitations: Invite a few neighbors to brainstorm over a drink, dessert, or nothing but a glass of water. At the meeting decide date, time, hosts, charities, menu, and volunteers to help. Send out an email invitation … we used Paperless Post and one person handled responses. (See ours below.)
Locations: One neighborhood decided to have a progressive dinner where each course was hosted by a different person. Our menu included Ukrainian dishes: chicken kyiv, varenyky, and Ukrainian honey cake. We had so many wonderful neighbors participate that the main course had to be served at two houses. Johanna's neighborhood had one dinner and a lower-level-donor cocktail party at another house.
Planning and cooking the meals: We all know people who love to cook and help, so finding volunteers was no challenge. A couple of days in advance, we prepped dumplings and chicken kyiv together—with Ukrainian immigrants—the most fun of the whole process for many of us. (Joan will give you recipes and menus if you want.) We managed to find local chefs, businesses, and entrepreneurs to donate time and resources to our event. (We hope to arrange for a couple of large companies who have stores nationally to continue to donate resources for other neighborhood dinners.) Sharing as we did not only strengthened our already terrific neighborhoods, but made it simple to execute and we all got to meet new people.
Donations: We asked everyone to donate at least $500 to the charity of their choice helping Ukraine. You pick a charity and set the minimum donation at any amount that you like. We used the honor system; you could also ask guests to tell you the amount they donated so you can announce and celebrate the total at your event.
It is important to note that whatever type of fundraiser you choose doesn't have to be a three-course dinner. You could do a potluck, organize a meal swap, or offer to do meal delivery or pick up. Whatever you offer, the goal is to raise funds for a great cause.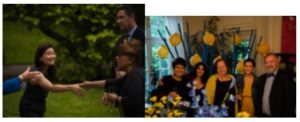 The list of refugee and journalist organizations working in UKRAINE in alphabetical order you also might consider. These organizations have been vetted by individuals we trust—among others Nick Kristof, formerly of The New York Times.
HIAS, Hebrew Immigrant Aid Society 
Institute for War & Peace Reporting
International Center for Journalists. ICFJ
International Rescue Committee, IRC
KIND (Kids in Need of Defense)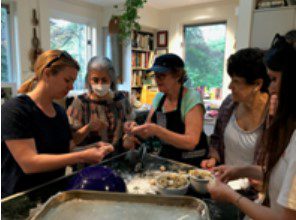 It seems as if everyone I talk with here in the U.S. and around the world is saddened and horrified by this war. I hope to inspire you to take some kind of action—whether it is flying a Ukranian flag or making a donation to provide relief to Ukranian refugees and survivors. Anything will help.
Thank you!
Karen
Mother's Day has always been a special day for me, especially after I became a mother more than 32 years ago. After my eldest daughter Alex was born, my mom Frieda told me that the focus would now be on me as a mom, and she would come to my house. I always remember that.
So this year, with my grandson Eli being 17 months old, I happily offered to drive 70 miles to my daughter Alex's house very early Sunday morning to spend time with them. I brought Alex flowers, took her and Eli to breakfast, and gifted her a massage to honor this special day. (My younger daughter Sophia had a cold, so didn't want to share germs with us and stayed home.)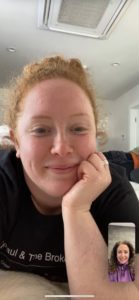 I also learned something new that day. Alex sends hand-signed and mailed Mother's Day cards to all of her "mom" friends! I'm talking more than 25 friends! Alex told me that she had started doing this a few years ago, as she feels that being a mom is something very special and wanted to celebrate all her friends. I smiled when she told me, as I have been doing the same thing for years. I wonder if she knows that we do the same thing? She probably doesn't know that my own mom also sent Mother's Day cards and flowers to special moms in her life!
It was later that afternoon that I learned an even more interesting Mother's Day tradition. I was playing golf and stopped to chat with Gus, who runs the snack shop at our golf course. I asked him what his wife was doing that day for Mother's Day. When he told me he had no idea, I must have looked a bit surprised. That's when he shared with me the Mexican tradition for Mother's Day—in Mexico Mother's Day is always on May 10 (unlike our American holiday which is always on the second Sunday of May). Gus told me that he would be doing something special for his wife on Tuesday, May 10.
I asked my co-worker Margie more about Mexican Mother's Day, as she is my go-to person on these kinds of things. Margie told me that in Mexico Mother's Day is equally as important as a person's birthday. She said traditionally mariachi bands are hired to serenade for Mother's Day, a tradition that has been brought to parts of the U.S. In fact, she said that in Guadalajara, Mexico, (where her family is from) there are always advertisements to hire mariachi bands for May 10th celebrations. She said that oftentimes you can hear them playing just after midnight to welcome in the Mother's Day celebrations.
Colorful flowers are traditional gifts for mothers in Mexico, and many family members will take off work just to spend the day with their mothers. Since moms traditionally do the cooking in the family, the moms may cook for the day, but they will be surrounded by their entire family, who gathers to honor them and show them just how special they are!
As Margie and I were talking, one of our co-workers overheard us and told us that in his home country of Nicaragua, Mother's Day is celebrated on May 30! And with a little help from the Internet, I learned that observance of Mother's Day is different in many countries.
Most Americans might guess that Mother's Day is a "Hallmark holiday" (i.e. created by the Hallmark company as a way to sell more greeting cards). When, in fact, I think Mother's Day is an extremely meaningful and special day that is deserving of a pause and an outpouring of love and caring.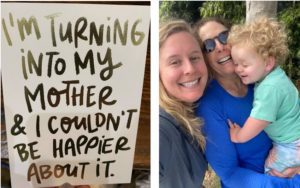 For myself, I was overwhelmed with the number of texts I received from friends and family members wishing me a happy Mother's Day. It always takes me by surprise when this happens, as I have no expectations.
But frankly, the card that touched me the most was the one that Alex gave me.
To all the moms out there—I hope you felt the love on Mother's Day!
Karen
I like to think of myself as a trendsetter. But TikTok is one trend that's eluded me. I admit it. I have never created a Tik Tok (video), and I have not downloaded the app.
TikTok, an app started in China in 2016 (then called Douyin), is a video-focused social network service owned by Chinese company ByteDance Ltd. It's used for creating, sharing and discovering short videos. It's no secret that people enjoy it as an outlet to express themselves through singing, dancing, comedy and lip-syncing—they create videos and share them across a community. Videos are usually from 15 seconds to 10 minutes long.
In researching TikTok, I found that its initial user base was young people between the ages of 12-13 years old. As with most social media platforms, TikTok began with early adopters who were young teens and then suddenly spread to anyone who wanted to be hip, trendy and influential. The fact that TikTok was a video platform caused it to go viral.
Each social media platform has a cohort that finds it especially appealing. LinkedIn is for business networking. Facebook is popular with baby boomers (and has probably reduced the need for high school reunions). Instagram is a must-have for millennials.
YouTube afforded a way to share videos. I recall the first YouTube video I ever saw, probably in 2010, was sent by a friend to view a tractor moving through a field in Indiana. My first impression was "who is going to watch that?" I never could have predicted how YouTube would change the way we solve everyday problems. Have a clogged toilet? You can go on YouTube to find out how to fix it. Want to know how to make your eye makeup and hair look a certain way? YouTube has the answer.
To understand TikTok, think YouTube and Instagram had a baby.
So, earlier this week one of my coworkers ran into my office to show me a TikTok that featured one of our most unique fruits—the Kahuna® Jackfruit. I was mildly interested in seeing it … until she played it for me.
It was not a TikTok produced by a 13-year-old—it was from the account of an adult woman named Deven Karpelman (@tequilaanddonuts is her handle). Oh yeah, and she has 850,000 followers. The TikTok below has 2.4 million views so far! Yes, 2.4 million.
Spoiler alert: She goes into a Costco in search of "adopting" a jackfruit and treats it as if it is a new member of her family. She straps it into her shopping cart, buys it some clothes (estimating it is a size 3T), and then buckles it into her car for the trip home.
You can see for yourself what is so hilarious and genuine about this TikTok. Click here to see how to Adopt a Jackfruit.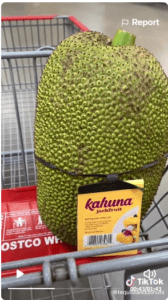 So, thank you Deven, aka @tequilaanddonuts for adopting a Frieda's Kahuna® Jackfruit. And as she highlights, it's "the original party fruit." I think a jackfruit party may be in my future.
Karen