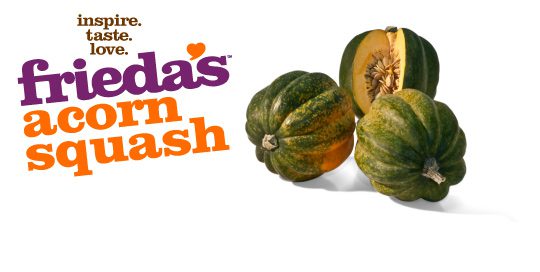 Overview
What is an Acorn Squash?
Acorn squash is a winter squash that is available all year long. It has a bright orange flesh with a slightly sweet and nutty squash flavor, and somewhat dry, fibrous texture. The white and gold varieties are also known as Table Queen squash and are a little sweeter than the green variety.
How to Eat
Halve and place cut side down in a cooking dish with 1/2 inch of water, cover, and bake for 40-45 minutes at 375 degrees, or microwave halves in same amount of water, covered, for 12-15 minutes. This squash is good topped with butter and brown sugar and is delicious baked and stuffed with fruit such as apples, oranges, or raisins, then topped with cinnamon.
Health Benefits
Rich in potassium, vitamins A and C, and an excellent low-calorie source of fiber.
How to Choose
Choose squash with hard shells that seem heavy for their size.
How to Store
Store uncut squash in a cool, dry area up to 3 months. Refrigerate cut squash up to 1 week.
When are they in season?
Where are they grown?
Product of U.S.A. and Mexico
Recipes
Scalloped Squash and Potatoes Ingredients: 2 cups Organic Klamath Pearl Potatoes, diced 3 cups Winter Squash (such as Acorn, Hubbard, Kabocha, or Turban), peeled and cut into chunks 1/3 cup onion, chopped 1/2 cup cooked ham or Canadian bacon, chopped 1/4 … Continue reading →