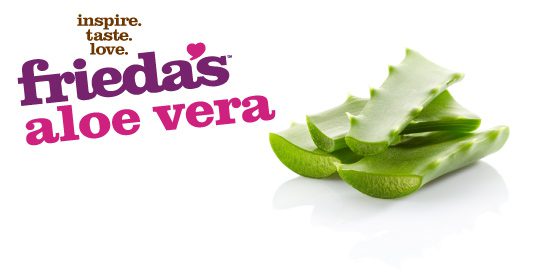 Overview
What is Aloe Vera?
The Aloe Vera plant produces prickly leaves and a flowering stem which produces orange or yellow flowers. When the leaves are cut open or crushed, a clear gel oozes out which is used as a clear protective seal for wounds. Aloe Vera is very popular in the Asian and Latin communities and is commonly used for burns and scrapes.
How to Eat
Warning: slippery! Aloe can be difficult to peel due to its slimy sap and slippery texture.
Slice off a portion you need from the whole leaf. Slice off the sharp sides, then carefully slice off the thick green skin. Rinse thoroughly before use or eating.
Use gel  to sooth sunburns, burns, or skin irritation.
The gel is also edible! Enjoy fresh gel mixed with water or juices for a refreshing drink, or blend into smoothies. Poach gel cubes in simple syrup for a dessert, or steam gel and add to salads.
Health Benefits
Aloe vera hydrates the skin and relieves sunburns.
How to Choose
Look for firm green leaves with no evidence of wrinkling or cracking.
How to Store
Keep at room temperature for up to one week, or refrigerate, tightly wrapped in plastic, for up to 2 weeks.
When are they in season?
Where are they grown?