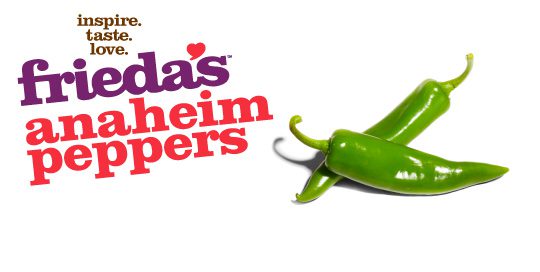 Overview
What is an Anaheim PEPPER?
Fresh Anaheim Peppers are slender long peppers with a mild to medium heat and sweet flavor, most commonly seen in their fresh green state. Named for the city of Anaheim in California, these peppers were first introduced to California in the late 19th century. Anaheims look very similar to New Mexico Green Chiles, except they tend to be milder. On a heat scale of 1 to 10, Anaheim Peppers are a 2 to 3.
How to Eat
Anaheim Chiles are traditionally used in making chile rellenos; they are great chopped fresh in omelets, baked potatoes or in cornbread batter. They can also be grilled and pickled.
Health Benefits
Excellent source of vitamins A and C.
How to Choose
Choose chiles with smooth, deeply colored, firm, unblemished skins.
How to Store
Store refrigerated, in a sealed bag, for up to 2 weeks, or in freezer bags and freeze for up to a year.
When are they in season?
Where are they grown?
Recipes
Grilled Polenta Cakes Topped with Hatch Chiles Ingredients: 1 tube Frieda's Organic Polenta, any flavor 1/4 cup plus 2 tablespoons extra-virgin olive oil 3 Hatch Green Chiles, roasted, peeled, seeded, and thinly sliced, or Poblano or Anaheim chiles 1/4 cup … Continue reading →
Nutrition