Okay, let me start by saying: When you are into healthy eating or at least want to make healthier choices, you are always reading food labels. It's shocking to see what "stuff" gets put into food to make it taste good. It's usually excessive sodium, high-fructose corn syrup, and other things I cannot pronounce or spell.
So, when I was at a produce trade show last year and saw this new snack food Peatos, I was intrigued.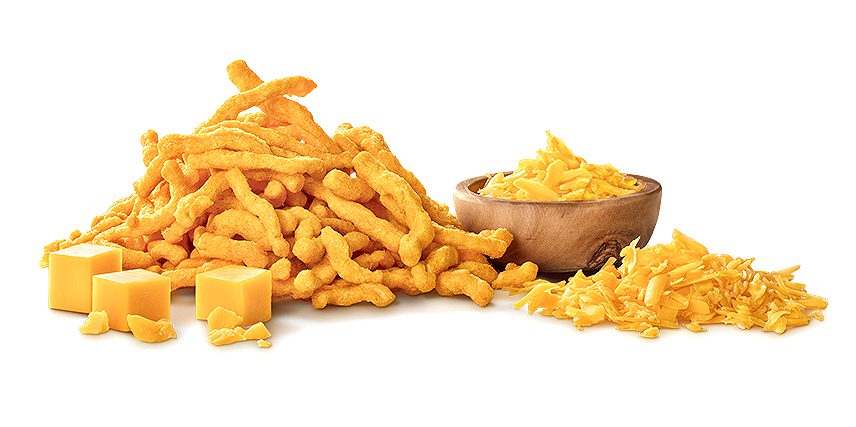 And, they were delicious. I thought: Clever! A "healthy" alternative to Cheetos. And that was it. I saw them at my local supermarket and occasionally bought them. And since I went vegan, I have been delighted by their "Fiery Hot" flavor product.
End of story.
Then, I was reviewing the guest list for a CEO Summit I was attending the day before the Berkshire Hathaway Annual Shareholders Meeting in Omaha, Nebraska, on May 3. There on the list was the name Nick Desai, CEO of Snack It Forward LLC, World Peas Brand, i.e., the creator of Peatos. My favorite snack.
OMG. OMG. OMG.
I put Nick's name on my short list of people to be sure and meet. And when I got to the meeting, the orange Peatos logo on his white shirt (and the shirts of his two young daughters along with him) made him easy to identify. (We produce people tend to wear our logo shirts everywhere… Shameless promotion.)
Nick and I immediately struck up a conversation at the break.
I asked him how the heck he started the company. He told me he was in the investment banking world and decided it was too stressful, so in 2007 he decided he wanted to get into real business and found the opportunity to buy the company Snack It Forward. We both laughed about it being a tossup of which is more stressful: investment banking or owning your own (food) company.
Fast forward to 2018. Nick got rid of his manufacturing plant and stopped selling the licensed Sunkist trail mixes his company was known for.
Being of Indian descent, and being raised in a vegetarian lifestyle, he was perplexed why American vegetarian snacks weren't made of pulses (beans, lentils, fava beans, etc.). They are a great source of protein, and he noticed that most snack foods in the U.S. were mostly carbs and fat. So, he developed a pulse-based snack that resembled the craveable Cheetos snack.
We talked about the challenges of attending trade shows, doing sampling, getting co-packers, signing confidentiality agreements with manufacturers, pursuing retail clients, getting that first big sale and then the 24/7 nature of the food business.
We both love it! And because he brought his two daughters with him, we developed a more personal connection about the realities of balancing work/family. I'm guessing his wife was enjoying some downtime back in SoCal.
I was intrigued and full of admiration that Nick was able to transform his life and his company by looking back at his roots. His family is from India, and his wife is vegetarian. He's a smart business guy, but he wanted a change that was more real to him.
So, thank you, Nick, for taking the plunge into healthier snack foods. I'm grateful that his first retail customer was Kroger, and from what he told me, his line of Peatos is available nationwide in all Kroger stores in the produce department. He also told me that I could purchase Peatos on Amazon… But that's another story.
#UNJUNKYOURSNACK
Karen
About 18 months ago, a dear friend of mine suggested I read a book entitled Braving the Wilderness by Brené Brown. I really had no idea who Brené Brown was, but I felt an instant connection to her since she narrates her books (I listened to the book on Audible).
Brené Brown, Ph.D., LMSW, is a research professor at the University of Houston. That's her day job. But her real calling is that she has spent the last two decades studying courage, vulnerability, shame and empathy. Her TED talk – "The Power of Vulnerability" – is one of the top five most-viewed TED talks in the world, with more than 35 million views. That is a lot of views!
She talks about shame and vulnerability – not the typical subjects of speeches and presentations. Mostly because no one likes to talk about that. If you haven't listened to her, I highly suggest you either watch her TED talk or listen to one of her books. Her Texan accent, her speech is punctuated with swear words (her talks are heavily peppered with the word "bullshit") and her authenticity are contagious. I learned years ago that to use a swear word properly in a speech can actually connect you with your audience.
But Brené's use of swear words is more than a connection tool, it is the truth, exemplified. Like when she was asked to speak at a Very Big Business Conference, with the limitations of 1) no swearing and 2) no mention of her faith (her personal values are faith and courage). She talked about her thought process on this request, and finally she decided, "This is bullshit." She is who she is, and she will not give in to anyone who asks her to NOT be her authentic self.
Brené has written five New York Times #1 best-selling books:  The Gifts of Imperfection, Daring Greatly, Rising Strong, Braving the Wilderness and most recently Dare to Lead: Brave Work. Tough Conversations. Whole Hearts.
You can probably tell, I am a bit of a fangirl for Brené, so when I learned that she was speaking in Houston at a small private event, my friend Lisa, who lives in Houston, offered to have me sit at her table for the dinner. I booked my ticket to Houston immediately – I was in!
Let me start by saying that I must have mentioned to Lisa at least five times that I wanted to meet Brené personally. I was so determined that Lisa sent me a screenshot of the seating chart for the event, to show me where we were sitting (table #4) and where Brené would be. I wrote a note to Brené on my personal stationary and carried it with me in my purse.
So, it was no surprise that when we arrived at the pre-event reception, I spotted Brené across the room. I don't think anyone had really seen her yet. So I quickly pulled out my phone, recruited someone I didn't know to take our photo and moved toward Brené.
I was immediately struck by how she connects with people. She looks directly into your eyes and genuinely smiles. When it was my turn to say hello to Brené, I passed her my note (to open later) and told her that I flew from California just to see her. I also shared that her latest book, Dare to Lead, was so amazing that several months earlier I purchased 10 copies of it to distribute to every member of my leadership team at work.
After our photo was taken, I looked and there were dozens of other people lined up to talk with her.
After the dinner portion of the event, she got up and spoke to this group of 250 people about the Five Barriers to Courage:  Tough Conversations, Fears & Feelings, Stuck in Setbacks, Problem Solving/Action Bias and Inclusivity, Diversity + Equity. And she ended her talk with the Four Skills Sets Needed: Rumbling with Vulnerability, Living into Our Values, Braving Trust and Learning to Rise.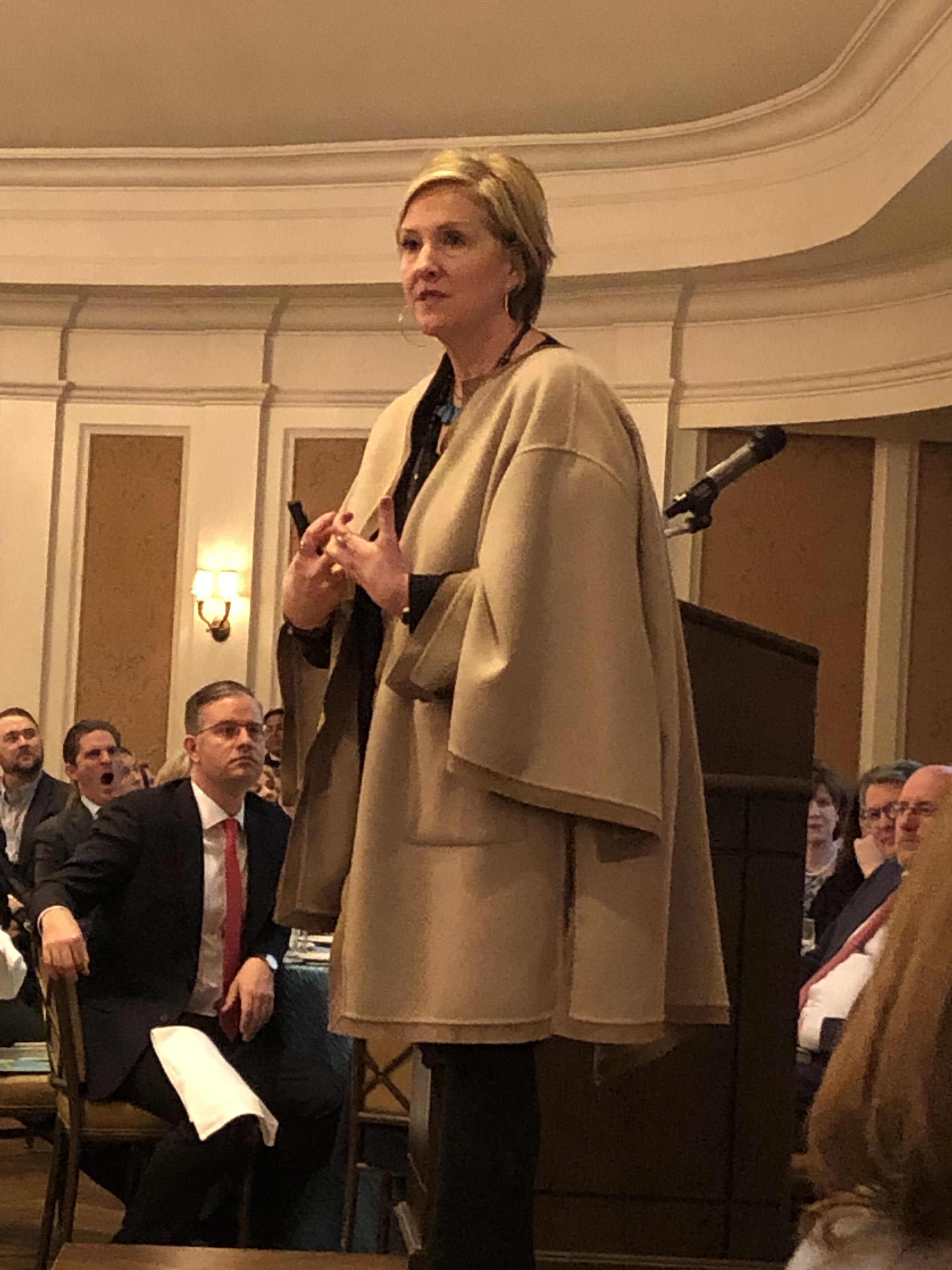 She is such a compelling speaker that even though the dinner ran long and she wasn't able to start her talk until 9 p.m. – not a single person got up to leave before she finished at 9:45 p.m.
As I rode in the car back to my hotel, two takeaways rolled around in my head.
First, there is no courage without vulnerability. (I decided that it is okay for me to be vulnerable. Even though I feel like I am supposed to have that big red "S" for superwoman on my chest, I think it is better for me to be vulnerable and ask for help when I need it.)
And second, clear is kind. Unclear is unkind. (I asked myself, how many times do I beat around the bush with people and am not direct with my ask or my opinion?) I am really being unkind by being unclear?
This trip to Houston to meet and hear Dr. Brené Brown was a revelation for me.
The name of the event was: Dare to Show Up. It took a little scheduling and a plane flight, but I'm so glad I did dare to show up. I hope YOU will dare to show up when the opportunity presents itself to you.
Karen
Last week, in my ongoing quest for "continuous learning," I attended the UC Davis Agribusiness Executive Seminar in Newport Beach. I have been attending this biennial year 2.5-day seminar for the last 15 years. It is patterned after the Harvard Business School Agribusiness Seminar and uses case studies on businesses written by professional case study writers. As part of the seminar's method, the CEO (protagonist) comes to the group to defend his/her business decisions and plan. Attendees at the seminar are sent the case studies in advance. We are expected to read them and be prepared to discuss them and to challenge the protagonists.
We had six case studies this year. One of the most interesting was about Raley's, the privately owned supermarket-chain based in Sacramento, California. Chairman and Owner Michael Teel and his CEO, Keith Knopf, came to speak with us and "defend" their business position.
While I cannot divulge the details of the case study (we take a pledge of confidentiality), I wanted to share what is public knowledge.
Raley's currently has about 121 stores, and about five years ago, Michael Teel decided to shift the operating strategy of his company. He decided Raley's should become a purpose-driven company and wanted to position his company as a trusted advisor to the consumers who shop in his stores.
They call it "The Raley's Way." On the company website's career page, it says: "changing the way the world eats, one plate at a time."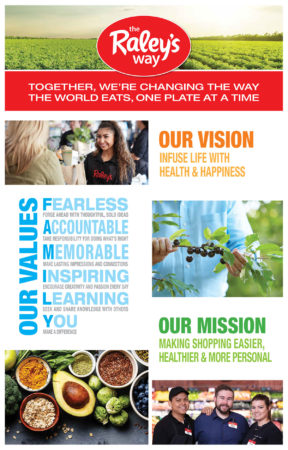 Michael told us, as he was approaching age 60, he reflected on his life and saw a thread around health and wellness and alternative medicine. He made a connection between the products his supermarkets sell and the (poor) health of consumers. In his mind, the connection was not a positive one. Meaning, he was struck that the sugar and salt-filled foods and the choices his stores offered to shoppers were affecting their health in a negative way. That's when he made the decision to shift his strategy and to be purpose driven.
Over the last five years, Raley's has made some very dramatic changes. He removed candy from the checkout lanes and replaced it with healthier snacks. He stopped selling tobacco products in his stores and gave priority display space to the healthiest choices on his stores' shelves. What you may not know about the supermarket industry is that big companies (we call them CPGs – Consumer Packaged Goods) seem to dictate what is sold in stores, because of the attractive incentives they give to retailers to stock those products. And if products are on the shelves at the store, consumers tend to buy them.
Michael saw that he could offer healthier choices. And that meant, he and his leadership team had to go against the conventional supermarket wisdom. Instead of listening to the recommendation of CPG companies, they started to make decisions based on being a trusted, health-oriented advisor to his shoppers.
Since Raley's is a for-profit business, so you might ask yourself: Did his decision to change what was sold in his stores pay off? Or was this just a "feel good" move? Well, it was kind of both.
Initially the company sales took a dip. So, Mike and Keith and their management team made some adjustments to their plans, and during the course of the last five years, their company has become more profitable and their market share has grown! When they both got up to speak about their decisions, their company's performance, the alignment in their management teams and their commitment to changing the way the world eats, the passion and caring was oozing from them.
I know there are other small and medium-sized supermarket chains in America that have made a similar decision to focus on healthy foods and lifestyles. I can't help but think about regional retailers in the Northwest, like New Seasons, Town and Country and Green Zebra. And of course, chains like Mrs. Gooch's and Bread & Circus (both purchased by Whole Foods more than 20 years ago) that helped Whole Foods become a national natural retailer.
But what is different about Michael Teel and Raley's is that this is a third-generation family business with a long legacy of being a middle market retailer – long before Aldi, Costco and Walmart. As the succeeding grandson, Michael quickly figured out that being in the middle is never a good strategy.
To me, it was truly an example of not only putting your money where your mouth is, but showing, real time, that you can do well by doing good.
My hat is off to Michael, Keith and their entire team for making a commitment to being a purpose-driven company and sticking to their commitment. And for helping change the way the world eats, one plate at a time.
Karen
I feel like the word "gratitude" has become the latest buzzword. Everyone is using it. And when that happens to a word or phrase, it can dilute its meaning or intention.
For me, showing gratitude means authentically being appreciative. Whether it is saying "thank you," or writing a thank you note, or even smiling at someone with a twinkle in my eye and a nod to show that I appreciate them, it has to be authentic.
It's not a go-through-the-motions kind of gratitude. You know what I mean: the mandatory thank you note you write after a job interview or after you receive a gift. It's deeper than that. And if you are writing a thank you note, your choice of words can make all the difference in the world. Just last week, I attended a produce conference luncheon, during which the speaker surprised us all by giving us blank thank you cards. She instructed us to think of someone in our life that we are grateful for, and to write a thank you note. They then mailed them for us.
That was quite a thinking exercise for me, as I was forced to think hard about someone in my life that I was grateful for (and I didn't want to choose the ordinary options, i.e., family members). I wrote to a dear friend of mine who has been incredibly supportive of me in a nonprofit we both are involved in. I wonder what her reaction will be when she receives my card. I suspect that it will be a surprise, that it will be appreciated and that she will interpret it as an authentic expression of gratitude.
And that's what gratitude should be.
And on the other side, we have asking for forgiveness. I think it is even more challenging to admit you are wrong and ask for forgiveness. In my role as CEO of my company and a leader in my industry, for many years I really struggled to admit when I was wrong. And frankly, I was wrong a lot. I wasn't very comfortable admitting when I was wrong, so I tended to make excuses or gloss over my errors.
But now, I find strength in saying the words, "I was wrong,"  "I made a mistake,"  "I don't know."
What if everyone on the planet was willing to admit when they were wrong and asked for forgiveness?  To say, "Darn it, I was wrong," "I would love to hear how you think that should have been handled" and "I am open to your ideas." Clearly we can all think of some people in public life who should admit when they are wrong.
But how about at work, or in our home life? Wouldn't it make it easier if someone who was so passionate about their point of view, took a deep breath and said, "Wow – I was wrong," "I need your help" or "I've never done this before and would appreciate your insight"?
So next time you are bubbling inside with frustration or angst, try asking for forgiveness, showing some gratitude and being open to a different perspective.
Karen
Several years ago, someone asked me if there was anything I would like to change about the produce industry. I didn't even pause when I answered, "Change the grades and standards of fresh produce."
Years ago, a system was put in place that basically meant only perfect-looking produce would be sold in supermarkets.
You can see the result by walking into any supermarket produce department. Every apple on display is the same size, looks identical and is blemish-free. The tomatoes are all red and identical in size (unless they are heirloom varieties or yellows). And that applies to almost all fresh produce.
As American consumers, we have come to expect perfect-looking produce because it creates a lot of appetite appeal. After years of conditioning, supermarket buyers believe that consumers will not purchase anything but those perfect-looking fruits and veggies.
Then came talk of sustainability, food waste and hunger. We Americans became almost instantly aware of the fact that, according to the USDA, 30 to 40 percent of all fresh food goes to waste somewhere in the supply chain (between farmers' fields and consumers' trash cans or compost piles).
Predictably, a few entrepreneurs started businesses to market the produce that was going to waste—that 30 to 40 percent that was not making it onto consumers' plates.
Companies like Imperfect Produce, Full Harvest, Hungry Harvest and Misfits Market sprang up. Produce brokers and marketers launched lines of off-grade products. In France, one supermarket chain, Intermarche, even ran this memorable commercial in 2014 to promote its line.
As per usual, it made great headlines.
Five years later, just this week, I read this headline in our trade papers:
"Grocers Turn Away From 'Ugly Produce'"
The article goes on to say many supermarkets are ending tests with ugly produce because customers aren't purchasing the product as frequently as they had hoped. Some retailers reported inconsistent interest on the part of consumers.
Does that make sense? That consumers who are concerned about hunger and eliminating food waste would not flock to supermarkets to buy produce that is a little bit less than perfect in appearance, but has the same taste, flavor and nutritional values?
Obviously, I don't have all the answers. Many factors could have affected the outcome, such as how attractive the packaging was, what educational tools the supplier offered to inform consumers, where the product was displayed, pricing strategy and supply consistency, just to name a few.
In doing some research for this blog, I uncovered this interview with crop scientist Sarah Taber, entitled "A scientist on the myth of ugly produce and food waste." If you have time, I encourage you to take a few minutes to read her point of view; she calls bullshit, by the way.
Why do I think ugly and imperfect produce is being taken off the shelves of conventional supermarkets? Ugly produce looks great in highly curated shots on social media, but the far real version found on store shelves just doesn't have the same appetite appeal. Consumers still shop with their eyes, which means it will take longer than four to five years for this to catch on. A program like this will require the supermarket industry to be patient rather than cater to the instant gratification consumers expect with new programs.
These imperfect produce companies are most likely ahead of their time. Based on my company's 57 years of experience introducing new fruits and vegetables to American consumers, I know, for a fact, that it takes around 15 to 18 years for a new product to catch on. Think kiwifruit, dragon fruit and even kale. I spoke about the life cycle of new product introductions in my speech at trend conference #BittenLA in 2016.
I believe alternative channels need to be developed for less-than-perfect-looking produce. Why not sell that product to food processors or restaurant suppliers who are going to chop it up anyway? Trying to get conventional supermarkets to retrain their quality control inspectors, produce managers and management on what is acceptable condition is an unlikely recipe. Why not develop relationships with markets that are already selling cheap produce that doesn't always look perfect? I recognize that it takes extra time to develop relationships with these alternative channels, but they seem the most practical path for getting imperfect product to consumers.
I predict that some companies will pull back from offering ugly produce, creating a dip in the product life cycle, but the desire for developing alternative markets to move less-than-perfect produce will continue. Call me in 10 years and I think you'll find a whole new supply chain has been created and we have significantly less food waste.
And that's a goal we can all support.
Karen
I think everyone can agree that walking on the treadmill (or using an elliptical trainer or recumbent bicycle) can be boring. After all, you are basically going nowhere. And the view can be pretty mundane, unless you are exercising next to a friend and can talk to each other.
So when my doctor told me I needed to step up my cardio exercise routine to eight days a week, I kind of freaked. I mean, it is so boring. He told me I need to do cardio exercise between 30 and 75 minutes a day.
Fortunately, that evening I was at a dinner party with a few friends. I was lamenting my newest assignment from my doctor. It must have been evident that I was trying to sort things out.
Thank goodness, my longtime friend Sue Parks was at the dinner. She pulled me aside and reminded me that she started the company WalkStyles, which offers integrated wellness programs to busy people who work for corporations.
Sue told me, "Don't think of your doctor's edict that you work out every day as a death sentence. Think of ways to make it fun!" I said, "Fun?" She recommended I get my iPad (I found it buried inside my home office desk) and download Netflix. (I have subscribed to Netflix for years, but honestly had never watched anything.)
She said to find a show or two or three that I like, then make my visit to the gym an opportunity to watch one or two shows from my favorite series.
OMG—I think I hit the jackpot with Sue's suggestion.
I had already found a new, clean, modern gym at the beginning of January. Like many people, I find the fitness chains too crowded and not especially appealing. My new gym, Olympix in Long Beach, is right on the beach, which will be great in the warmer months. A large variety of equipment and plenty of open space sold me on it. Also, everyone working out there is serious, meaning they're not sitting idly on the equipment texting or reading their emails.
So, the day after my doctor appointment, I took my iPad, along with my new wireless Apple AirPods (that offer incredible sound quality!) to the gym, opened Netflix and started watching shows. So far, I've watched "The Office," "Grace and Frankie," "Tidying Up" with Marie Kondo and "Parks and Recreation."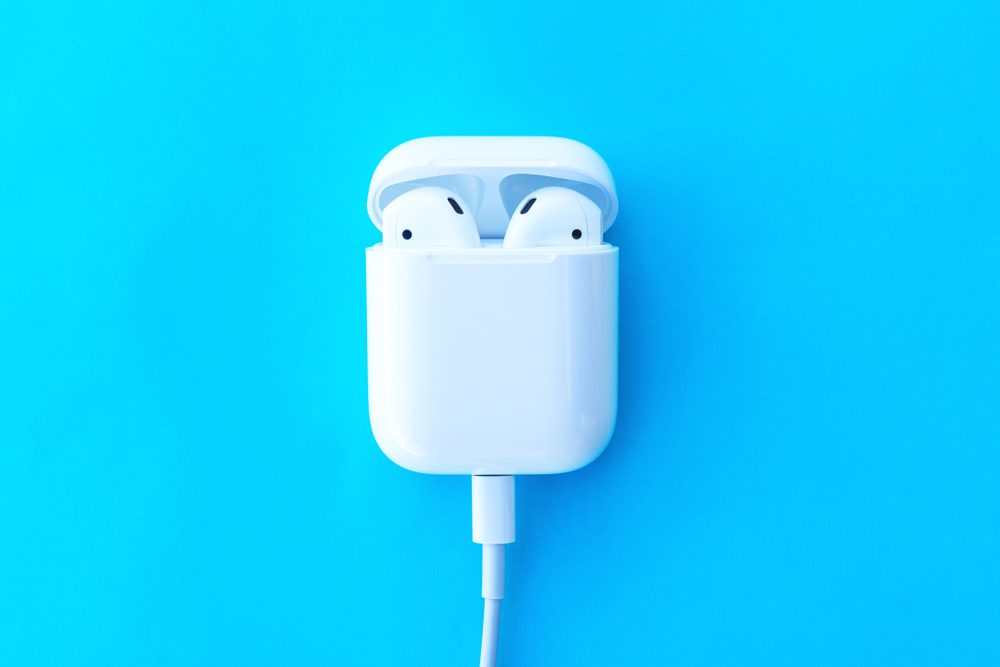 Sometimes I literally lose track of time. And even when I have a late night at work (after 6 p.m.), I actually look forward to my 15-minute drive to the gym to hop on the treadmill and watch the next show in my queue.
I never realized how the workout venue, its location and how crowded it is can affect how motivated I am to work out. Picking a brand-new gym, having a purpose (my doctor's order) and some entertainment have actually made my workouts enjoyable.
And the benefits are showing. I'm sleeping better, losing a little weight and feeling less stress.
I would love to hear what motivates you to get your workout done!
Karen
It used to be if you wanted to get ahead in the corporate world and learn the ropes that you would find a mentor. Some (mostly larger) companies have formal mentoring programs, with detailed roles and responsibilities, programs and processes. You might be in a management training program. Or just new to a company. And if a formal mentoring program was in place, you might be assigned a mentor.
Or you might be a member of an organization where more senior members of your industry offer to mentor you (i.e., help you navigate your way up the corporate ladder).
For myself, when I first started in the produce business working for my mom, there were no formal mentors. My mom, who was my boss, was too busy running her company to formally mentor me. I watched how she handled things and followed suit.
A few years after I joined the company, I was fortunate that one of my clients took a special interest in me. He decided he was going to be my mentor. Dick was an executive with a large retailer and had a huge span of responsibility. In fact, he was one of my biggest clients and we talked every day.
I'm not sure how it happened, but he started to mentor me. I would ask his opinion or advice on certain situations. Sometimes I didn't even ask for his advice—he would just give it. I feel very fortunate that he was there to help me navigate the produce industry. And over the years, as it turns out, both Dick and I have continued to mentor young people coming up in the business.
As I was sitting at a produce conference in Berlin, Germany, last week, I realized that mentoring has changed. It no longer makes sense to me to have a single mentor. Instead, what you really need is a personal board of directors.
Think about it. Does it make sense to rely on one person to give you advice about your entire career path?
Or is it more logical to think about those areas in which you want to grow and the variety of contacts you have available or need to meet in order to make progress?
For example, in the produce industry, there are so many things to learn. If I were a young person just entering it, I would want to have a "kitchen cabinet" of advisors, friends and mentors to share their expertise and opinions with me. I would not want to meet with them all at once, but I would want to check in with them periodically.
And I wouldn't ask someone, "Will you be my mentor?" Instead I would say: "I am putting together a personal board of directors to help hold me accountable to my commitments and progress. You have expertise in XX, and I would like to touch base with you periodically to share my goals, ask you questions and get your insights."
In my own company, I've had team members periodically schedule time with me (usually about 20 to 30 minutes) to get insights into ways they can grow professionally. I let them drive the agenda and it's not usually about their current role. They are looking for suggestions on how they can make a difference, both in their personal and professional lives.
So next time you are thinking about looking for a mentor or being a mentor, try using the phrase "personal board of directors" and see if it changes the conversation.
Karen
It's easy to determine your Chinese zodiac sign for Lunar New Year!
February 2019 (Los Alamitos, CA) – With Lunar New Year and the Year of the Pig approaching, there is lots of buzz around Chinese zodiac signs. If you're wondering what yours is, Frieda's has created a guide to help you determine it. The Chinese zodiac runs on a 12-year cycle, with each year represented by a different animal. Each animal was selected based on its importance in Chinese culture and comes with its own list of unique traits.
"Lunar New Year is a super exciting time of the year, and we wanted to have some fun with it," says Alex Berkley, sales manager at Frieda's. "I was born in the year of the snake, which is known for intelligence, sympathy and wisdom."
Chinese Zodiac Chart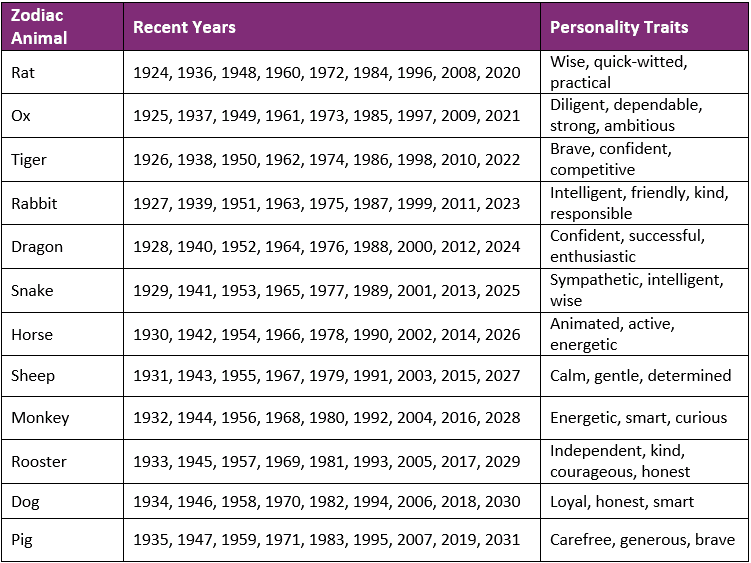 Call your account manager at Frieda's for additional signage opportunities and merchandising recommendations today to become the go-to destination for shoppers!
About Frieda's Inc.
Frieda's Specialty Produce has been inspiring new food experiences for friends, families, and food lovers everywhere since 1962. From kiwifruit to dragon fruit and from Stokes Purple® sweet potatoes to habanero peppers, Frieda's has introduced more than 200 unique fruits and vegetables to the U.S. marketplace. Founded by produce industry trailblazer Dr. Frieda Rapoport Caplan, subject of the 2015 documentary "Fear No Fruit," the family company is owned and operated by Frieda's daughters, Karen Caplan and Jackie Caplan Wiggins, in Orange County, California. Find Frieda's on Facebook, @FriedasProduce, and Friedas.com. Inspire. Taste. Love.
Give your shoppers easy and stay-in-worthy dessert ideas in the produce aisle with a crêpe display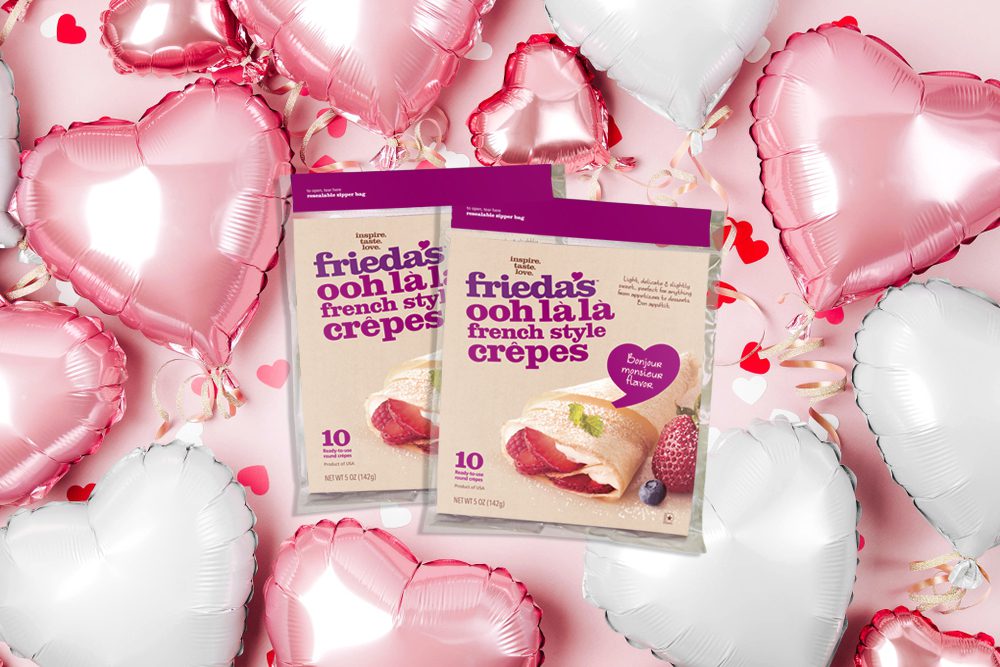 Los Alamitos, CA (January 2019) – With economic uncertainty driven by the recent U.S. government shutdown, shoppers may be looking to dine at home this Valentine's day instead of going out.
"Here at Frieda's, we are hearing a lot about consumers tightening their belts, like eating in more and dining out less," said Cindy Karas Sherman, director of marketing at Frieda's. "But staying in does not mean having the same old boring meal when it comes to Valentine's Day. You can still have some fun with it and make a dessert that wows like Berry Champagne Crêpes or Chocolate Almond Mousse Crêpes with Strawberries."
Frieda's instant display unit holds four 12/5 oz. cases of the shelf-stable, ready-to-eat French-Style Crêpes. The display and packaging feature a bright, fun design that attracts impulse shoppers, especially millennials, and includes how to prepare crêpes in three easy steps. Frieda's also offers single cases of ready-to-eat crêpes packed 12 packages per case.
To make your crêpe display a dessert destination in the produce aisle, you can place it by the berry patch and merchandise the surrounding space with whipped cream, chocolate sauce and glaze.
Call a Frieda's account manager today for sweet deals on these crêpe displays and other Valentine's Day promotion ideas.
About Frieda's Inc.
Frieda's Specialty Produce has been inspiring new food experiences for friends, families, and food lovers everywhere since 1962. From kiwifruit to dragon fruit and from Stokes Purple® sweet potatoes to habanero peppers, Frieda's has introduced more than 200 unique fruits and vegetables to the U.S. marketplace. Founded by produce industry trailblazer Dr. Frieda Rapoport Caplan, subject of the 2015 documentary "Fear No Fruit," the family company is owned and operated by Frieda's daughters, Karen Caplan and Jackie Caplan Wiggins, in Orange County, California. Find Frieda's on Facebook, @FriedasProduce, and Friedas.com. Inspire. Taste. Love.
It seems like every day when I open up The Wall Street Journal or listen to the news on my drive to work, I hear something about Federal Reserve Bank Chairman Jerome Powell and interest rates. I always take a personal interest in it because I was a director of the Los Angeles branch of the 12th District of the Federal Reserve Bank from 2005 to 2007.
I have written before about how I became a director. It was an amazing time of my life and meeting then-Chairman Alan Greenspan at a cocktail party at the Federal Reserve Building in Washington, D.C., is definitely near the top of my incredible experiences list. Greenspan made the words "irrational exuberance" famous.
During that visit, I sat in the office of Ben Bernanke, then a member of the Fed's board of governors, and asked him about a book I saw on his bookshelf, "The Federal Reserve Bank for Dummies."
It was during that time that Janet Yellen, Ph.D., was selected as president of the 12th District. I saw her twice during periodic board meetings held in San Francisco. Dr. Yellen was appointed by President Barack Obama in early 2014 to succeed Bernanke as chairman of the Federal Reserve Bank, admittedly one of the most powerful and influential positions around.
So, I was very excited to learn that she would be in my area this week, as a speaker at City National Bank's 2019 Economic & Investment Forum. Of course I wanted to hear all of the speakers at the forum, but I really wanted a chance to say hello in person to Dr. Yellen.
After securing a spot at the event, I had to decide how I was going to meet up with her to have a personal conversation. If you know me at all, you know I am determined. And I was definitely determined to be up close and personal with Janet Yellen.
The first thing I did was to arrive early for the event. I heard they were having more than 500 people in attendance, so I wanted to get a good seat. After getting my name tag, I immediately went inside the conference ballroom. At first it appeared that all the front-row seats had reserved signs on them. But because I went all the way to the front of the room, I was able to locate a partial row that somehow had no reserved signs. I plopped down my purse and scarf to save three seats for my colleagues and me. Right in the front row.
I then went on the hunt for the chairman of City National Bank, who would be introducing Janet Yellen. A longtime banker friend pointed him out to me and I made my way to him. I had not seen Russell Goldsmith for at least eight years since we ran into each other on a plane, but I pretended we were old friends and he played right along. I told him how good it was to see him, reminded him that he and I served on the Federal Reserve Board together and that I had actually corresponded via email with Dr. Yellen a few years ago and wanted to be sure and say hello to her.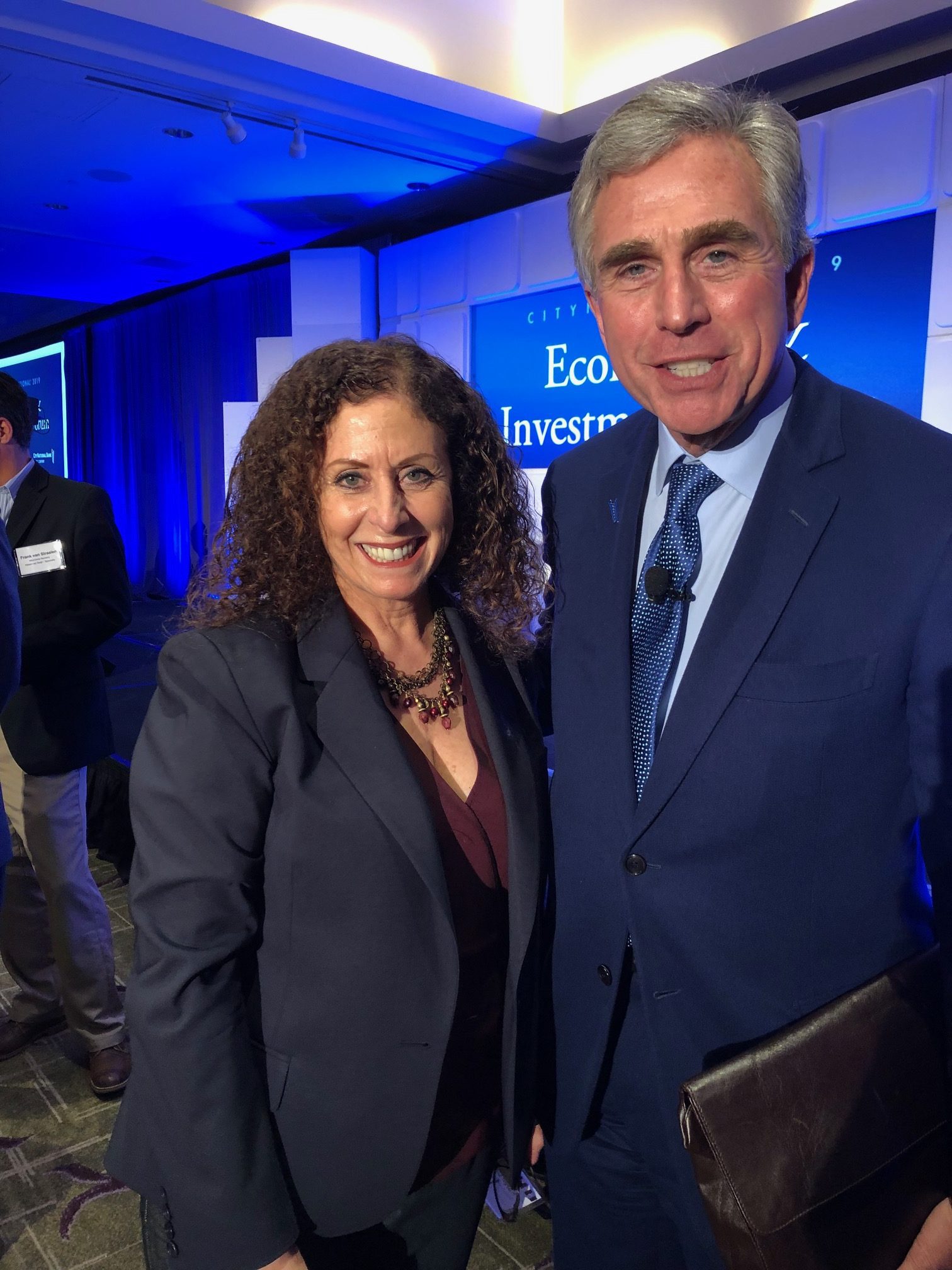 Well, Russell was more than helpful and he told me how I could meet her. He told me that as soon as she exited the stage, to jump up and say hello. He pointed to the area directly in front of where I was sitting. Bingo!
So I listened and waited for two hours. I heard City National Bank's experts in housing, internet research and media research talk about their favorite stocks and recommendations. I listened while Russell masterfully asked Dr. Yellen what she thought about the growing deficit, unemployment, China and the apparent new normal for interest rates. And finally, the event was coming to a close. As Janet smiled, waved and walked off the stage, I jumped up and almost raced up to see her.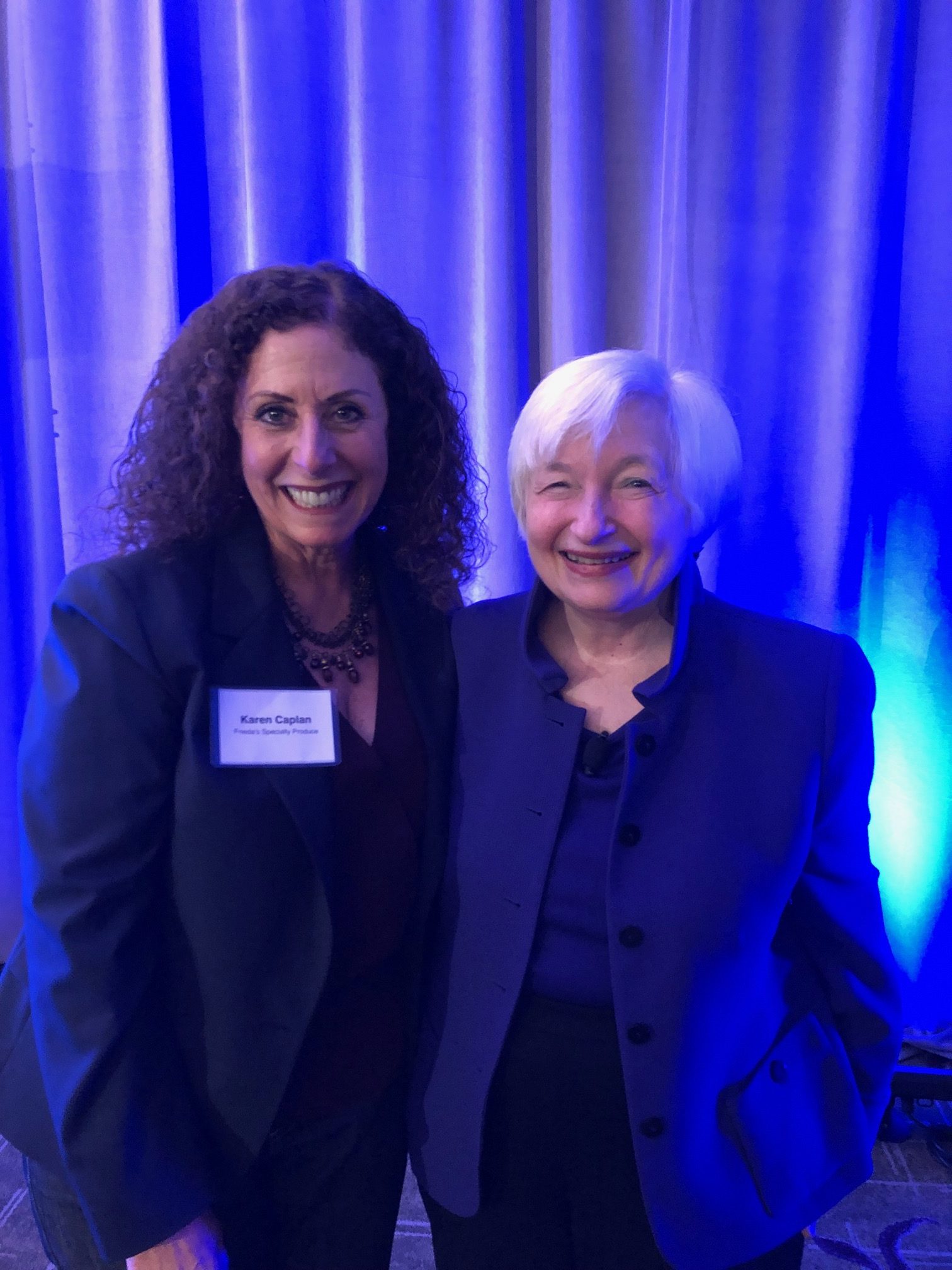 It was like we were old friends. She remembered me and my family produce business. I asked about her husband and her son. She told me they were now living in Washington, D.C., and gave me her email address. After we hugged and took a photo together, I turned around to see dozens of people from the audience lined up to meet her. I smiled. She had to keep walking to catch her flight.
Sometimes it takes determination, planning and a laser focus to get what you want. Have you ever felt that way? You really, really, REALLY want something. And even if it seems impossible, you know deep inside that the only way you will get it is if you use focused determination.
Well, I got to see Janet Yellen. I wonder what else I can accomplish with that same determination. And you?
Karen