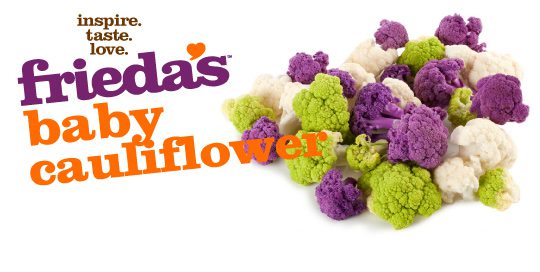 Overview
What are Baby Cauliflower?
Baby colored cauliflower are miniature versions of conventional cauliflower, about 2-4 inch diameter. The orange and purple cauliflower are higher in antioxidants than white cauliflower. Purple cauliflower's true origin is not known, but the purple color is natural. It is the antioxidant anthocyanin that gives it the purple pigment. Although it may look different than the popular white variety, the taste is just the same. The mild, sweet, and nutty flavor of traditional cauliflower is still present in these colorful florets.
How to Eat
Baby colored cauliflower are perfect simply steamed as a colorful side dish or puréed. Great for adding color to fresh veggie platters. The beautiful colors do not fade when they are cooked!
Health Benefits
How to Choose
Choose tight, compact heads with firmly attached jacket leaves.
How to Store
Store refrigerated up to 7 days.
When are they in season?
Where are they grown?
Recipes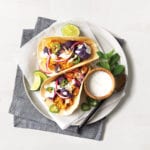 Turmeric-Roasted Cauliflower Tacos Ingredients Cauliflower: 1 medium head purple cauliflower 1 medium head orange cauliflower 1/4 cup olive oil 5 inches fresh turmeric, grated on Microplane® grater 3 teaspoons ground cumin 2 teaspoons garlic powder 1 teaspoon kosher salt 1/4 … Continue reading →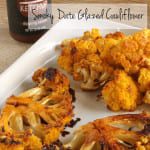 Smoky Date Glazed Cauliflower Original recipe and photo by Erika Kerekes of Not Ketchup Ingredients 1 large head orange cauliflower 2 teaspoons olive oil 1/4 cup Smoky Date Not Ketchup 1 teaspoon smoked paprika 1/4 teaspoon sea salt 1/8 teaspoon … Continue reading →
Broccoli and Cauliflower Stir-Fry Ingredients: 1/4 pound broccoli 1/4 pound fresh mushrooms, sliced 1/2 cup cauliflower, Colored Cauliflower, or Baby Colored Cauliflower 1 3-ounce package Water Chestnuts 1/2 cup thin sliced carrots 1/2 teaspoon finely grated Fresh Ginger Root 2 … Continue reading →
Save