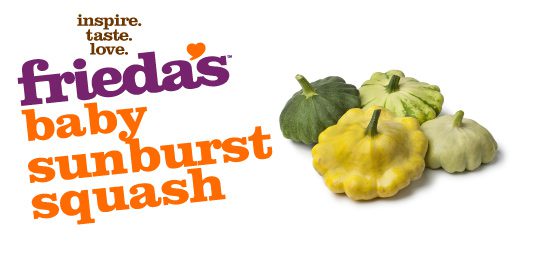 Overview
What is a Baby Sunburst Squash?
Baby Sunburst Squash, one of many varieties of baby summer squash, used to only be found in restaurants and home gardens. It is now grown widely in California and Mexico. Named for its distinctive star shape, Baby Sunburst Squash has a mild squash flavor and soft tender texture.
How to Eat
Steam, sauté, boil or add to veggie platters for dips, chop into salads, or add to soups. Add whole to stews and casseroles or skewer for kebobs on the grill.
Health Benefits
Rich in vitamin C and low in calories.
How to Choose
Choose firm, plump, and unblemished squash.
How to Store
Store refrigerated up to 1 week.
Instagram Video
Internet Explorer users may not be able to view the following video.
Recipes
Grilled Baby Squash with Garlic Marinade Ingredients: 16 medium mushrooms 8 ounces Frieda's Baby Squash, trimmed 1/3 cup olive or vegetable oil 1/3 cup white wine vinegar 1 tablespoon Frieda's chopped Fresh Basil, Dill, Chives, Chervil, Sage, or Savory 2 … Continue reading →