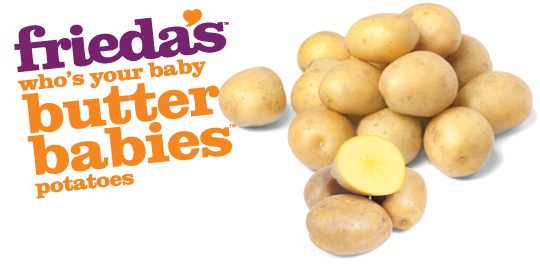 Overview
What are Butter Babies™ Potatoes?
Butter Babies™ are bite-size potato perfection with a "sunny disposition"—beautiful tan skin and bright yellow flesh with great creamy, buttery flavor. It's like butter, baby!
How to Eat
Quick and easy to cook with skins on. Boil, steam, roast, or microwave–possibilities are endless!
How to Store
Store in a cool, dark place.
When are they in season?
Where are they grown?
Recipes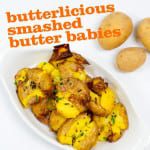 Butterlicious Smashed Butter Babies™ Ingredients 1 1/2 pounds baby gold potatoes, thoroughly washed Large pinch of salt 2 tablespoons olive oil 2 to 3 cloves garlic, minced 1 tablespoon chopped fresh herbs (rosemary, thyme, or chives) Salt and pepper, to … Continue reading →
Nutrition