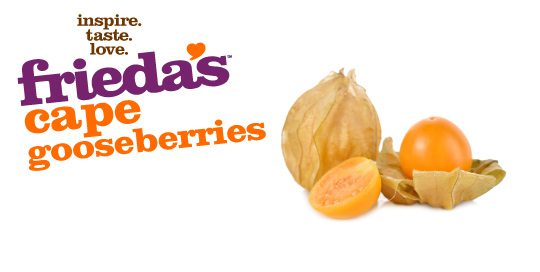 Overview
What is a Cape Gooseberry?
Also known as Ground Cherry or Physalis, the actual berry is enclosed in a papery husk and is about 1 1/2 to 2 inches long, with the berry being slightly smaller. When fully ripe, the berries are orange-red and have a smooth skin with small, soft, edible pips. Ripe berries taste pleasantly tart and smell a bit like pineapple.
You may also find them without husk as Pichuberry.
How to Eat
Remove and discard husk, and wash thoroughly. Eat berries fresh or cut in half and use in fruit salads, compotes, or jams. You can also sweeten the fresh fruit with a sprinkle of sugar.
Health Benefits
Excellent source of vitamin C, rich in vitamin A, and a good source of fiber.
How to Choose
Choose berries that are firm and yellow to orange in color.
How to Store
Refrigerate up to 4 weeks.
When are they in season?
Where are they grown?
Product of Colombia and Chile
Recipes
Chocolate-dipped Cape Gooseberries Ingredients 1 pint Frieda's Cape Gooseberries 1/4 pound milk chocolate 1/4 pound dark chocolate 1 sprig mint Steps Peel back the papery husks (or remove them altogether), then wash the berries and let dry completely. Line a … Continue reading →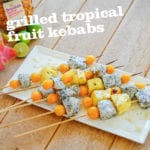 Grilled Tropical Fruit Kebabs Exotic fruits get caramelized then drizzled with a zesty key lime-honey sauce for a sticky-sweet summer treat. Ingredients 1 pint cape gooseberries* (24 berries), husk removed and rinsed well (or 24 fresh lychee and/or rambutan, peeled … Continue reading →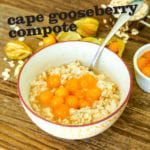 Cape Gooseberry Compote ingredients 4 cups Cape gooseberries, removed from husks and washed 1/2 cup to 1 cup granulated sugar* 1/4 cup fresh lemon juice (about 2 lemons) 1 vanilla bean Small pinch of salt *To let the flavor of … Continue reading →