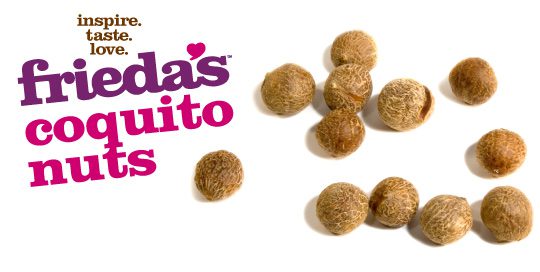 Overview
What is a Coquito Nut?
Also known as mini coconuts, Coquito nuts are similar in size and shape to a marble with a surface resembling wood and interior flesh that is white. The taste is similar to coconut with a slight hint of almond. These nuts are shelled and quite crunchy.
How to Eat
They can be eaten right from the package without being washed or peeled. Grind them in a blender and sprinkle on ice cream or yogurt or add to your favorite baked goods before cooking.
Health Benefits
Coquito nuts are low in sodium.
How to Store
Store in an airtight container in the refrigerator for 2 weeks. If they become too hard, they can be softened by boiling in water for 10 minutes.
When are they in season?
Limited availability and distribution in the United States.
Where are they grown?
Recipes
Chocolate Bark with Coquito Nuts Ingredients 2 6-ounce packages Frieda's Coquito Nuts 2 cups semisweet, bittersweet or milk chocolate chips Optional garnish: More crushed coquito nuts or unsweetened shredded coconut Steps Line a rimmed baking sheet with foil or non-stick … Continue reading →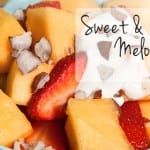 Sweet & Crunchy Melon Salad Ingredients: 1/2 cup Frieda's Coquito Nuts, crushed 3 cups cantaloupe, honeydew, or other melons like pepino melon, cut in chunks 1 cup fresh strawberries or raspberries, sliced Coconut-Lemon Dressing: 1 carton (8 ounce) lemon low-fat … Continue reading →
Save
Save
Save
Save