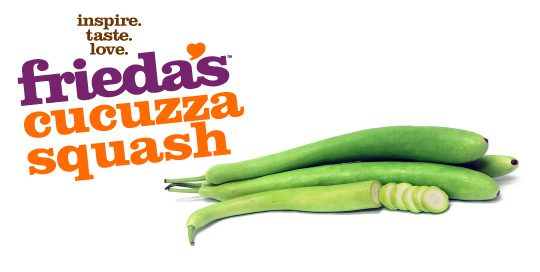 Overview
What is a Cucuzza Squash?
This pale green, Italian squash can grow up to 3 feet long. When harvested in shorter lengths, it can be shaped like a bowling pin and may be referred to as a bottle gourd or Opo in Asian markets. It has a very mild flavor, similar to zucchini.
How to Eat
Peel and slice squash. If seeds are tender, prepare as you would zucchini, if not, remove seeds before cooking. Cucuzza can be cooked with other vegetables, added to soups, breaded and fried, or steamed and topped with a meat and rice stuffing and melted cheese.
Health Benefits
High in calcium and a good source of vitamin C.
How to Choose
Choose full, firm and unblemished squash.
How to Store
Store refrigerated up to 1 week.
When are they in season?
Where are they grown?
Instagram Videos
Internet Explorer users may not be able to view the following videos.
Recipes
Stewed Cucuzza Squash Ingredients: 2 pounds Frieda's Cucuzza Squash 2 tablespoons cooking oil 1 small onion, chopped 1 clove garlic 1 15-ounce can stewed tomatoes Salt and pepper to taste Cooked thin spaghetti noodles (optional) Parmesan cheese (optional) Steps Peel … Continue reading →