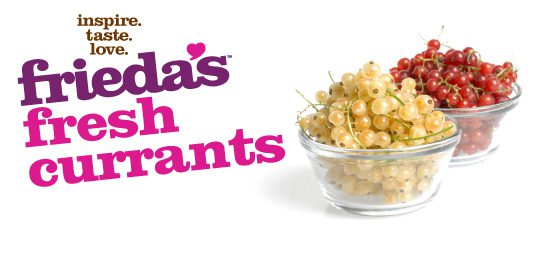 Overview
What are Fresh Currants?
Similar in appearance to grapes, the three varieties of this semi-transparent, sweet-tart berry have been cultivated since well before the 16th Century. Related to Gooseberries, red, white and black Currants also have a pleasantly sour taste and juicy flesh.
How to Eat
Red Currants can be eaten fresh or cooked in jams and jellies. White Currants can be used in salads and fruit cups. And black Currants are used primarily in jams, jellies and beverages.
Health Benefits
Good source of potassium and fiber.
How to Choose
Choose currants that are firm with green stems. Avoid those with brown stems, are shriveled or leaking. Refrigerate up to 4 days.
How to Store
Refrigerate up to 4 days.
When are they in season?
U.S.A. fresh currants are available June through August, and Chile fresh currants are available December through February.
Where are they grown?
Product of U.S.A. and Chile