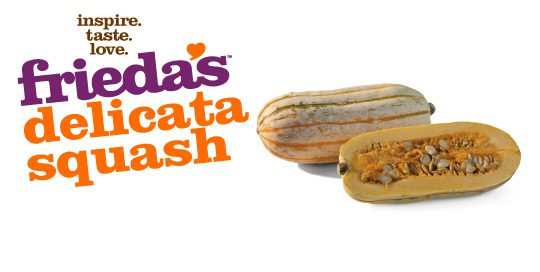 Overview
What is a Delicata Squash?
This winter squash has a small seed cavity yielding lots of edible flesh. The skin is also edible if not too tough. Delicata will range in color from cream to yellow with green stripes. It's moist and creamy with a sweet, buttered corn flavor.
How to Eat
Puncture with a fork if cooking whole. Halve lengthwise and place cut side down in a cooking dish with 1/2 inch of water, cover and bake for 30-40 minutes at 375 degrees, or microwave halves in same amount of water covered for 7-10 minutes. Glaze with butter and brown sugar or top with chopped fresh herbs.
Health Benefits
Good source of vitamin C and low in calories.
How to Choose
Choose squash with hard shells that seem heavy for their size.
How to Store
Store uncut in a cool, dry area up to 3 months. Refrigerate cut squash up to 1 week.
When are they in season?
Where are they grown?
Product of U.S.A. and Mexico
Recipes
Scalloped Squash and Potatoes Ingredients: 2 cups Organic Klamath Pearl Potatoes, diced 3 cups Winter Squash (such as Acorn, Hubbard, Kabocha, or Turban), peeled and cut into chunks 1/3 cup onion, chopped 1/2 cup cooked ham or Canadian bacon, chopped 1/4 … Continue reading →