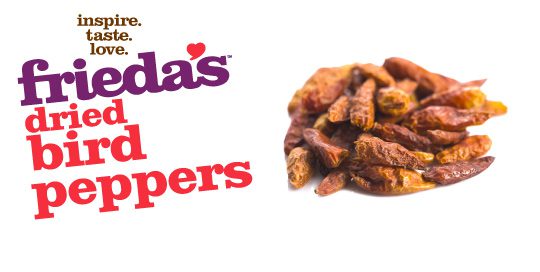 Overview
What is a Bird Pepper?
Dried Bird peppers get their name because their shape resembles a bird's beak. They are commonly referred to as Thai peppers in fresh form because they are believed to have been brought to Thailand by Portuguese traders in the 1700s. The heat typically ranges from 7 to 8 out of 10 on the chile heat scale. Commonly used in spicy Thai dishes and for flavoring hot chile oil and sauces.
How to Eat
Grind dried peppers in a spice mill or food processor and use in recipes calling for hot chile powder or flakes. Great in Thai cuisine and spicy Asian dishes. Wonderful with chicken, Asian vegetables and fish. Always handle peppers with caution – Never touch your eyes, nose or mouth directly after handling peppers.
Health Benefits
Hot peppers are packed with capsaicin, which is being studied for its pain-relieving properties.
How to Choose
Choose semi-flexible pods and store in a cool, dry place. Use within 2 months of purchase for best flavor.
Recipes
Thai Sweet Chile Sauce Skip the bottled "Thai chicken sauce," and make your own with fresh Thai pepper and lots of garlic. Ingredients 3/4 cup distilled vinegar 1/4 cup water 1/2 cup sugar 2 teaspoons salt 2 to 3 Thai … Continue reading →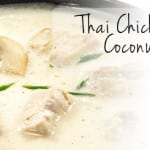 Thai Chicken and Coconut Soup Ingredients: 5 to 6 dried peppers (such as dried bird peppers), rehydrated according to package directions 3 3/4 cups skim milk 2 tablespoons unsweetened coconut milk 2 cups chicken broth, low sodium 2 pieces lemongrass, … Continue reading →