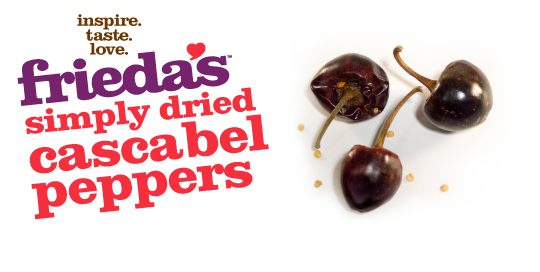 Overview
Description
Dried Cascabel peppers are named after the Spanish meaning of "rattle" because the seeds become loose inside when dried. They are sometimes used in their fresh, green state, which resemble cherry peppers, but are mostly used dried. Cascabel peppers are medium in heat with berry and tobacco overtones. Smaller varieties may be referred to as chile bola (ball or marble chile) or an even smaller versions called bolita (little ball). The heat index is 4 out of 10 on the Scoville heat scale.
Quick Usage Ideas
Grind or crush into soups, stews, salsas, and sauces.
Healthy Highlight
Selection & Storage
Choose clean, even colored and semi-flexible pods. Store in a cool, dry place up to 2 months.
Recipes
Salsa Cascabel Ingredients: 4 – 5 Frieda's Dried Cascabel Chiles 2 cups diced tomatoes 1 cup chopped onion 2 tablespoons cilantro, chopped 3 cloves garlic, minced 1 tablespoon lemon or lime juice Steps Place chiles in boiling water; blanch 2 … Continue reading →