Overview
Description
Tangy and sweet naturally dried whole cranberries. Great for snacking and baking. Moist, chewy texture.
Quick Usage Ideas
Use versatile dried cranberries in trail mix, baking, salads, appetizers and stuffing.
Healthy Highlight
Low-fat source of energy.
Selection & Storage
Store in a cool, dry place up to 6 months. Once opened, store in an air-tight container to retain moisture.
Recipes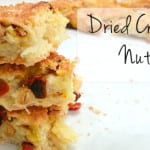 Dried Cranberry Nut Scones Ingredients: 2 cups all-purpose flour 3 tablespoons sugar 2 teaspoons baking powder 1/4 teaspoon salt 1/2 cup chilled butter or margarine 1/2 cup Frieda's Dried Cranberries, Dried Blueberries, Dried Bing Cherries, or chopped Dried Mango, or … Continue reading →