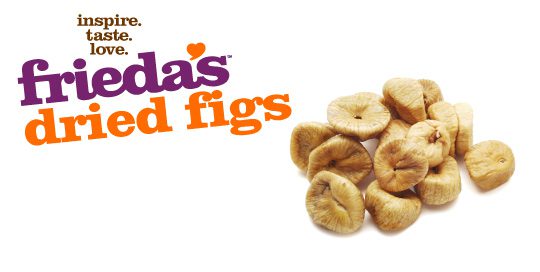 Overview
What is a Dried Fig?
Frieda's distributes a variety of dried figs: Black Mission, and Turkish. Dried Mission Figs are smaller and sweeter in flavor. They have a pink hue in the middle. Dried Turkish Figs are moist and succulent, and are one of the sweeter varieties of dried figs.
How to Eat
Use figs as a snack, to top desserts, or bake with. Make fig jam, include on a cheese board, wrap with prosciutto and include in rice and curry dishes.
Health Benefits
Good source of potassium.
How to Store
Store dried figs in its original package or in a sealed bag for up to one month. For longer storage, store in a refrigerator for 6 months to a year. Best when used within a year of purchase.
Recipes
Fig Bran Muffins with Spiced Butter Ingredients: 1 cup whole bran cereal 1 1/3 cup milk 1 beaten egg 1/4 cup cooking oil 1-1/2 cup all-purpose flour 1/3 cup packed brown sugar 1/2 cup chopped walnuts or pecans 2 teaspoons … Continue reading →