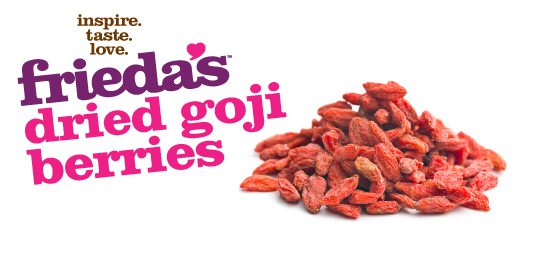 Overview
What is a Dried Goji Berry?
Goji Berries have been a part of Chinese and Eastern medicinal traditions for more than 3,000 years. Dried Goji Berries have the appearance and texture of large, bright, orange-red raisins. They're slightly sweet and tart with an earthy flavor.
How to Eat
Mix into salads, add to cereal and yogurt, bake into muffins, or enjoy as a snack.
Health Benefits
Considered a Superfruit, Goji Berries contain a wealth of antioxidants, vitamins, and minerals, and are a strong source of protein.
How to Store
Store at room temperature for up to twelve months.
When are they in season?
Where are they grown?
Recipes
Dried Goji Berry Scones Ingredients: 2 cups all-purpose flour 3 tablespoons sugar 2 teaspoons baking powder 1/4 teaspoon salt 1/2 cup chilled butter or margarine 1/2 cup Frieda's Dried Goji Berries 1 extra large egg 1/2 cup milk Steps: Preheat … Continue reading →