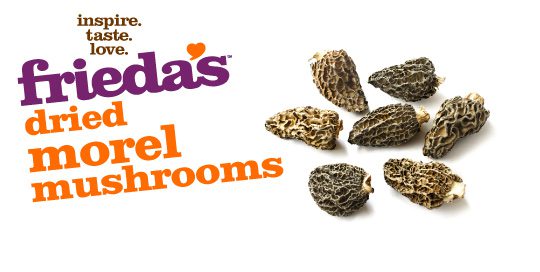 Overview
What is a Dried Morel Mushroom?
Mushroom connoisseurs consider the Morel among the finest edible fungi. Interestingly, varieties of Morel thrive in disaster-stricken environments. Legend has it that peasant women in 18th century Germany deliberately started forest fires to persuade these mushrooms to grow.
How to Eat
Dried mushrooms have a more concentrated flavor than fresh. Always soak dried mushrooms in VERY hot water for 20 minutes or until soft before using. Do not use before rehydrating. Use rehydrated mushrooms and strained broth in soups, sautés and stir-frys, and to complement meat, fish and poultry dishes.
Health Benefits
Both fresh and dried mushrooms contain unique compounds that are believed to boost your immune defense.
How to Store
Store dried mushrooms in an airtight container and place in a cool, dry area up to 6 months.
Recipes
Morels and Potatoes Au Gratin Ingredients: 1 package Frieda's Dried Morel Mushrooms, reconstituted according to package directions 1/2 teaspoon salt 1 clove garlic, minced 1 tablespoon chopped Frieda's Fresh Basil or Tarragon, or 1 teaspoon dried herb 3 cups Frieda's … Continue reading →