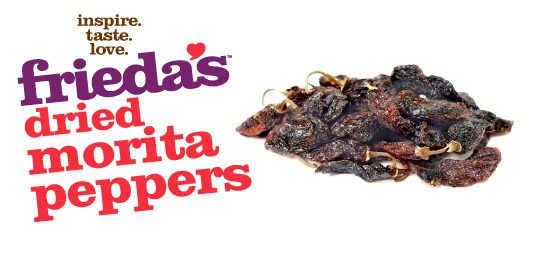 Overview
What is a Morita pepper?
Dried Morita peppers are small, red jalapeños that have been smoked and dried. Moritas are medium hot in pungency, averaging 6.5 out of 10 on the Scoville heat scale. Moritas have a sweet smoky flavor.
How to Eat
Use to make salsas and sauces. Always handle peppers with caution and wear gloves – never touch your eyes, nose or mouth directly after handling peppers.
Health Benefits
Hot peppers are packed with capsaicin, which is being studied for its pain-relieving properties.
How to Choose and Store
Choose semi-flexible pods and store in a cool, dry place. Use within 2 months of purchase for best flavor.
Recipes
Chile Morita Salsa Ingredients 2 Frieda's Dried Morita Peppers 1/2 cup hot water 1 pound Tomatillos, husks removed 1 to 2 cloves garlic, peeled Salt to taste Steps In dry skillet (preferably cast iron ), toast peppers until they puff … Continue reading →
Nutrition