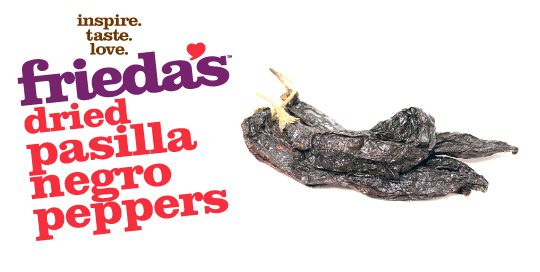 Overview
What are Dried Pasilla Negro peppers?
Pasilla is named after the spanish meaning, "little raisin," as its appearance resembles a raisin and flavor has slight raisin overtones. It is a dried Chilaca pepper, distinguished by its elongated shape. It has a smoky flavor and is mild to medium in heat. This dried pepper is a traditional component in mole (mo-lay) sauce and red enchilada sauces as well. Heat is 3-5 out of 10 on the Scoville heat scale.
How to Eat
Place peppers in a bowl and cover with boiling water. Let sit in hot water for up to 1 hour to rehydrate. Drain, then remove stems and seeds, and place peppers in food processor with a small amount of water until they become a smooth paste. Use this chile paste as the base for a variety of sauces, including mole and enchilada sauce. Always handle peppers with caution – Never touch your eyes, nose or mouth directly after handling peppers.
Health Benefits
Hot peppers are packed with capsaicin, which is being studied for its pain-relieving properties.
How to Choose
Choose semi-flexible pods.
How to Store
Store in a cool, dry place, and use within 2 months of purchase for best flavor.
When are they in season?
Where are they grown?
Recipes
Pasilla-Braised Pork with Plantains Ingredients 1 1/2 pounds boneless pork, cut into 1/2-inch cubes 4 cups water, divided 1 cup chopped onion 1 tablespoon chopped fresh oregano 1 tablespoon chopped fresh thyme 2 cloves garlic, minced 1/4 teaspoon peppercorns 1 … Continue reading →