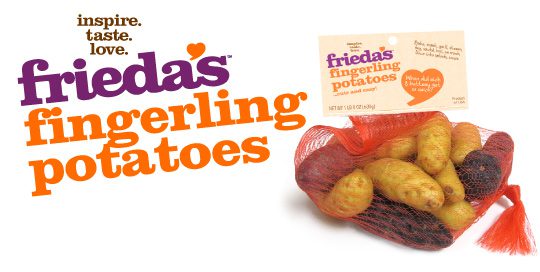 Overview
What are Fingerling Potatoes?
Originating in the Andes mountains of Peru, Fingerling Potatoes are a culinary star with unique flavor profiles and excellent texture. Fingerling Potatoes are slender, thin-skinned potatoes with a rich and buttery flavor. They are available in a variety of yellow, red, and purple colors. Russian Banana, Ruby Crescent, Purple Peruvian & French are popular varieties.
Also available in organic.
How to Eat
Try them baked, roasted, grilled, steamed, fried, sautéed, boiled or mashed. Slice them into salads and soups, or even as pizza topping.
Health Benefits
Rich in vitamin C and good source of fiber.
How to Choose
Choose potatoes that are firm without sprouting or sponginess.
How to Store
If refrigerated at store level, refrigerate at home. If kept dry at store level, keep in a cool, dry, dark place at home.
When are they in season?
Where are they grown?
Recipes
Oven-Roasted Rosemary Potatoes Ingredients 1 1/2-pound bag Frieda's Fingerling Potatoes 2 tablespoons olive oil 1/2 tablespoon salt 1/4 tablespoon black pepper, ground 2 tablespoons chopped Fresh Rosemary Steps Preheat oven to 425 degrees. Wash potatoes and pat dry. Cut potatoes … Continue reading →
Nutrition