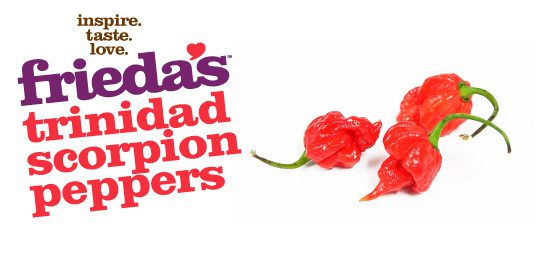 Overview
What is a Trinidad Scorpion pepper?
The Trinidad Scorpion Chile (Butch T variety), originating in Trinidad and Tobago, is one of the world's hottest peppers cultivated. This pepper can reach about 1.5 million Scoville Heat Units, just a smidge less spicy than world's hottest Carolina Reaper at nearly 1.6 million. For comparison, Habanero Pepper goes to 350,000 SHU and Ghost Pepper is about 1 million SHU!  The orange-red, golf ball-sized pepper has bumpy skin and a pointed end that looks like a scorpion's stinger. Despite the heat, it also has a sweet and fruity flavor.
How to Eat
Very intense heat! Use sparingly in sauces, salsas and marinades.  CAUTION: Wear gloves when handling Trinidad Scorpion Peppers. Never touch your eyes, nose or mouth directly after handling hot peppers.
Health Benefits
Hot peppers are packed with capsaicin, which is being studied for its pain-relieving properties.
How to Choose
Choose chiles with firm skins.
How to Store
Store refrigerated up to 2 weeks.
When are they in season?
Where are they grown?
Product of The Netherlands
Instagram
Recipes


Save