A few weeks ago, I attended the inaugural Executive Leadership Summit for the newly formed International Fresh Produce Association (United Fresh Produce Association and Produce Marketing Association merged as of January 1, 2022, and this was their official "launch event" as a single entity).
It was an invitation-only event and about 150 produce industry leaders attended. Young and old. Growers and distributors. Men and women representing all aspects of the food supply chain.
As with all mergers (whether non-profit or for-profit entities), there is a better chance of success if the merging of cultures is the highest priority. Everything gets done through people … and I've heard that more than 75% of all mergers fail due to a lack of alignment in culture. So, as an active industry member, I am optimistic of this merger's success, as great care has been taken in merging staff, locations and priorities.
During this event, they reiterated the top four priorities for this merged association:
Advocacy (being active in Washington, D.C.)
Labor and talent (talent is everyone's priority these days)
Business solutions for a sustainable future
Demand creation and growing consumption for a healthier world
It was the last priority that really got my attention. The luncheon speaker was an energetic chef-turned-evangelist for reducing nutrition insecurity. You've probably heard of food insecurity—lacking reliable access to a sufficient quantity of affordable food. What Chef Michel Nischan shared with us is the organization he started in 2007, Wholesome Wave, whose mission is to reduce nutrition insecurity. Nutrition insecurity is that state of not having access to nutritious food.
Quoting from the "What We Do" page of their website:
Food insecurity is about providing enough food to those in need. Nutrition insecurity is about providing the right food to prevent or alleviate diet-related diseases like diabetes, heart disease, hypertension, and obesity. With studies showing that diet-related diseases like diabetes and obesity are driving the highest hospitalization and death rates from COVID-19, it is now more important than ever to address nutrition insecurity head-on.
Michel co-founded this organization to address diet-related diseases by helping low-income Americans buy and eat healthy fruits and veggies. Most of us have heard about introducing fresh fruits and veggies to young children when their palates are young and their minds impressionable, hopefully creating positive eating and shopping habits for a lifetime. But we often forget that fresh produce is not always the most affordable food. Readymade pizza, pasta, fast food and other high-fat and high-carb foods are oftentimes the cheapest way to feed a family.
But, the long-term effect on one's health, and the cost of health care that comes with those food choices, is not easy to understand. But all you have to do is look at the obesity map of the United States to see the impact,  Adult Obesity in the U.S.: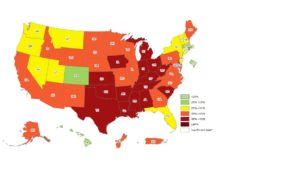 So, what made Michel's talk so exciting to me was his mention of "Food as Medicine." I smiled when he said those words, food as medicine. Because more than 30 years ago, in the mid-1980s, I recall giving presentations and speeches with that title and talking about the health benefits of many of our specialties (like fresh turmeric and ginger).
Michel previewed for us two commercials which he produced highlighting a future when doctors would write prescriptions for fresh produce. Check out these two: one for broccoli and one for tomatoes.
(Plus, there's a bonus audio commercial for bananas!) Listen here:
Nothing would make me happier than to know that physicians get adequate and ongoing nutritional education, so that when a patient has serious health concerns, the doctors' first discussion is about the benefits of eating a primarily plant-based, fresh food diet—that they write a prescription for fresh produce.
FVRx
All I can think about is the long-term effects these produce prescriptions will have on our health care system, our longevity, our well-being and the planet. And our happiness. I guess that's why when I am eating crunchy fresh vegetables or sweet fresh fruit that I feel happy!
Karen