Baked goods are not the only edible gifts in town this holiday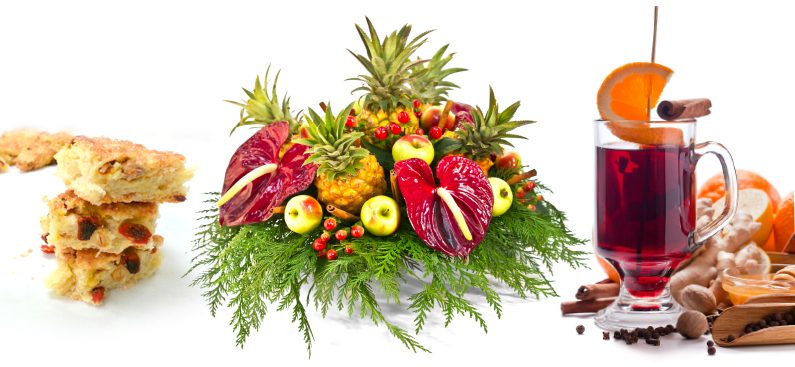 Whether it's a host-hostess gift or a holiday present, edible gifts are always in style. And there are reasons for that. Homemade gifts show consideration, creativity, and the thoughtfulness of the giver, and leave an impression on the recipient. We may not be able to tell you which friends gave us a bottle of wine at the last party, but we definitely remember who gave us the white chocolate-covered Oreo cookie "snowballs."
Edible gifts may be homemade, but they don't always have to be, well, made. Putting together a fruit basket or a food-making kit is just as well-received as any made-from-scratch baked good.
Non-refrigerated food gifts are also great. Think about your fridge the day of or after a holiday party. Do you have room to squeeze in more after all the leftovers?
Finally, package your gift well and remember to label it. If you're baking, make your label big enough for an ingredient list. If it's a food creation kit, don't forget to add instructions or a recipe card.
Now that you know the basics, time to look at some unique ideas!
Meaningful Fruit Basket
Don't just throw items into a basket! Make it meaningful for the recipient. For example, borrowing from Asian symbolism, you can give a gift of peace (apples, like the Organic Heirloom variety for great colors), prosperity (Pomegranate), and joy (Fuyu Persimmons). Drive away fall or winter blues with a basket of tropical fruits like Guava, Passion Fruit, or the cute little Zululand Queen Baby Pineapple.
Mulled Beverage Kit
Give a bottle of red wine or artisanal apple cider with packets of mulling spice and cinnamon sticks. For a more personal-sized option, portion out a tablespoon of the mulling spice with one cinnamon stick into a small cellophane bag and tie with a ribbon. Place the bag in a holiday mug along with a single-serving bottle of red wine or apple juice box.
Vanilla Sugar
Fill a jar with two cups of regular granulated sugar or turbinado (raw granulated) sugar. Split one vanilla bean pod lengthwise, then scrape the seeds into the sugar and stir well. Bury the bean in the sugar and seal. Portion off into any jar size.
Citrus Anything
Winter citrus is plentiful during this time of year and these fragrant fruits are great for infusion and candy making. Buddha's Hand Citron, being all pith, is perfect for infusing into vodka and olive oil, or for making candied peels. Kumquats are also delicious candied, as well as in marmalade.
Baker's Kit
Give your baker friend fresh ingredients and pantry items along with a recipe card to make something, such as:
Apple Pie: Pie pan. Green Dragon Apples. Cinnamon Sticks
Pineapple Upside-Down Cake: Cast iron skillet. Zululand Queen Baby Pineapples. Maraschino cherries.
Do tell us what you made for the holidays on Facebook, Twitter, and Instagram We always love to share great ideas.
Wishing you a wonderful and delightful holiday season!
Like this article? Sign up today to receive Club Frieda e-newsletter to get more tips, recipes, and inspirations.