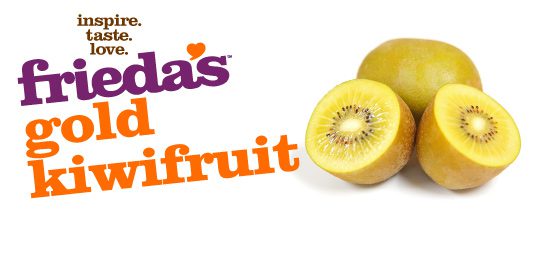 Overview
What is a Gold Kiwifruit?
Gold Kiwifruit has smooth brown skin and bright golden flesh. It tends to be sweeter and less tart than its green Kiwi cousin — with the flavors of banana, strawberry and papaya. Except for the tiny, edible black seeds, the texture is soft, juicy and somewhat pear-like.
How to Eat
Peel or cut Gold Kiwifruit in half and scoop out with a spoon. Add slices or wedges to fruit salads, cereal or blended drinks.
Health Benefits
Good source of potassium and vitamin C.
How to Choose
How to Store
Store at room temperature up to 7 days or refrigerate up to 3 weeks.
When are they in season?
Where are they grown?
Product of New Zealand, Italy, and Chile.
Recipes
Kiwi Granita Ingredients 5 Gold Kiwifruit, peeled and cut into pieces 1/2 cup water 1/2 cup sugar 10 fresh basil leaves, plus more for garnish 1 tablespoon lime juice Steps Boil water with sugar a few minutes, then allow to … Continue reading →