Frieda's resident culinary adventurists are tasked to find recipes that best feature their trending fruits and vegetables on a regular basis. Here's the latest from inside our test kitchen:
Heirloom Tomatoes
For all the gorgeous colors and flavor of Heirloom Tomatoes, they seem to always end up in the same place: a Caprese salad with mozzarella, basil, and olive oil. We wanted to take the tomatoes to another level with an unexpected flavor combination. Enter ginger and chile.
Ginger intensifies the tomato flavors while the chile gives it just the right amount of warmth. Lemon juice and zest brightens up this Heirloom Tomato salad with Ginger, Lemon, and Chile and balances out the fruity olive oil. This is definitely the ultimate summer salad.
Stokes Purple® Sweet Potato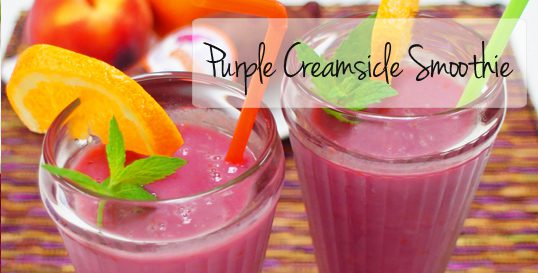 We want to find a creative and fun way to get kids to eat their vegetables. So we looked into a smoothie with baked and mashed Stokes Purple® Sweet Potato. After several different combinations of ingredients, we stumbled upon one with a very familiar taste: the Creamsicle (or 50/50 ice cream bar). The mismatch color and flavor makes this an exciting smoothie: purple in color but orange in taste? What?
With orange zest and peaches as the leading flavors in this smoothie, you would barely notice the presence of the Stokes Purple® Sweet Potato other that its color. The creaminess of the potato and smooth almond milk melds perfectly with orange juice and zest for that perfect orange, creaminess we were going for.
Have a suggestion on what we should try next in our test kitchen? Email us! Want more? Sign up today to receive Club Frieda e-newsletter to get more tips, recipes, and inspirations.