When you read the name Kobe, there is no doubt that you know I'm referring to the late, great basketball legend Kobe Bryant. It still stuns me that it was 2 years ago this week that his private helicopter crashed into the hills of Calabasas, Calif., killing him, his 13-year-old daughter Gianna, and seven others.
Recently, I learned quite a bit about Kobe, after reading a book by his longtime coach Tim Grover. Tim's book, Relentless is the story of how Tim, the son of Indian immigrant parents, leveraged his own drive and determination and convinced Michael Jordan—and eventually Kobe Bryant—that he could help them be better on the court. The only caveat? They had to do exactly what Tim told them to do. He guaranteed he would get results.
The key to Tim's success as a strength and conditioning coach to Kobe Bryant, along with Michael Jordan, Dwayne Wade, and hundreds of other relentless competitors in sports, business, and every walk of life, was his brutal honesty and his own belief in himself as a coach.
As I read the book, I realized that Tim Grover's coaching was not just physical coaching on the court; his coaching abilities were equally focused as a mental coach.
Kobe said it best:
"Tim Grover is the master of mental toughness. This book is the blueprint for discovering what you are capable of achieving, getting results you never imagined, reaching the highest level of success—and then going even higher." —Kobe Bryant
It's so interesting to me that there is no athlete in the world who would be where they are without a coach. But if you are not an athlete (and perhaps you are not a basketball fan), you might wonder why this book should be of interest to you.
Most sports teams are run better than businesses. How do they do it? They have a coach, they practice, and they have a playbook. You might think that Kobe Bryant, Michael Jordan, Tiger Woods, and Serena Williams have "natural talent" and that's the way they got to where they are in their sports careers. But the fact is, they were relentless in their pursuit of their dream and used every tool imaginable to help them get there.
How about you? Do you have a dream? Whether it is professional or personal, what are you doing to achieve it? Do you have a coach? Do you practice? Is there a playbook that you know about, but are hesitant to follow (often because you want to do it "your way")?
After listening to this book by Tim Grover, I was so impressed by how he characterized the most elite athletes he works with (he calls them "Cleaners"), and the secrets to their success and the behind-the-scenes reality of training them, that I have vowed to listen to this book once a month. That is 12 times this year.
Ever wonder how to be a superstar in your own life? Perhaps you might want to read or listen to Tim Grover's Relentless. There are some amazing lessons there.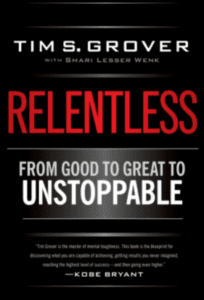 Karen