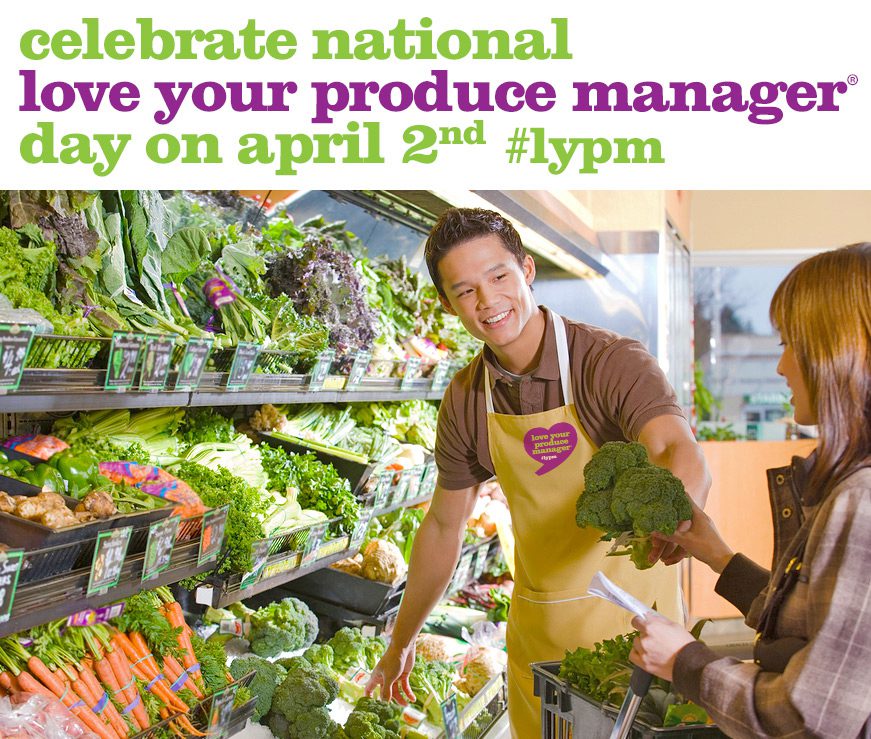 What is Love Your Produce Manager® Day?
Since 2012, April 2nd of every year is designated as Love Your Produce Manager® Day to honor exemplary customer service in U.S. supermarket produce departments. Produce Managers are the unsung heroes of the healthy eating revolution, quietly playing a key role in increasing fruit and vegetable consumption just by helping us take home the freshest produce.  Look to your Produce Manager as a source of valuable information on what's new and what's fresh.  You can usually find him or her in the Produce Department early weekday mornings.
How to celebrate Love Your Produce Manager® Day
Say hello to the produce managers at your local supermarket and thank them for being awesome.
Shoppers: Using hashtag #LYPM, give a shout out to your favorite produce department staff members on Facebook, Twitter, and Instagram…

for a chance to win a $25 gift certificate for yourself AND your favorite produce manager! Post a message or photo mentioning your produce staffer's name, store location, and #LYPM on Facebook, Twitter, and/or Instagram to enter to win $25 gift card for you AND your hard-working produce manager at his/her store! Deadline for submissions is April 3, 2018 at 11.59 p.m. PST. One winner will be randomly selected from all three social media channels on April 4.

Industry organizations: Use #LYPM or mention Love Your Produce Manager® Day in your communications and we'll make a donation to the Second Harvest Food Bank of Orange County, a member of the Feeding America national network.
Share these images on social media. (Click to download.)
5 Reasons Why You Should Love Your Produce Manager
1. They know what's what
Is this cilantro or Italian parsley? Is scallion the same thing as green onion? (The answer is yes.) Can you help me find a jicama? Your produce managers can help you navigate the produce department and find the exact fruit or vegetable you're looking for. They can also answer your questions about certain products. Not sure how to eat a cherimoya? Your produce manager can help you with that!
2. They know what's fresh
Produce managers definitely know their produce. They can tell you what's in peak season and when your favorite vegetables will be back in season. They also have the knowledge to help you pick the best fruits and vegetables from the shelf!
3. They provide inspiration for your next meal
Supermarket produce people know how to make those fruits and vegetables look enticing with creative and colorful displays. Merchandising these perishables could be considered an art form, and it may even inspire you to pick up something for a recipe you've been meaning to try. While not all produce staff are gourmet cooks, many do have a handy tip or two about the best way to store and prepare some of the fresh items in your basket. Ask your produce manager about his or her favorite recipe and try it out for yourself.
4. They can help you get what you want in the store
It never hurts to ask your produce manager about hard-to-find items or to request specialty items. Produce managers are your connection to new and exciting produce. Your input helps them stock their shelves better and gives them an opportunity to bring in something new to the stores.
5. Two words: free samples
Would you like to know what a lychee tastes like? Your produce manager may be able to help you with that. In some supermarkets, produce managers can provide a sample upon request.

#LYPM Instagram Love

Save
Save
Save
Save
Save
Save