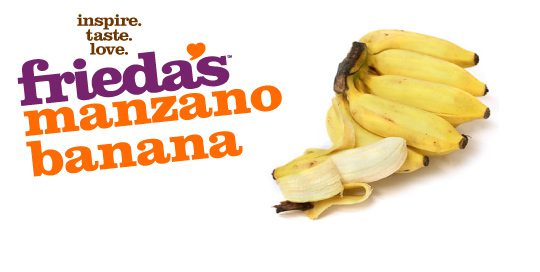 Overview
What is a Manzano Banana?
Manzanos are short, chubby bananas with a mild flavor combination of strawberry and apple. When fully black, they are at their peak of flavor.
How to Eat
Enjoy alone, add to fruit salads or use in recipes calling for bananas.
Health Benefits
How to Choose
Choose fruits relatively free from blemishes.
How to Store
Ripen at room temperature until soft.
When are they in season?
Where are they grown?
Product of Mexico, Colombia, Ecuador, and U.S.A.
Recipes
Orange-Glazed Bananas Ingredients: 3 to 4 ripe Frieda's Manzano Bananas, peeled and cut into ½-inch slices 1 tablespoon lemon juice 2 tablespoons butter 1 tablespoon packed brown sugar 2 – 3 tablespoons fresh orange juice Grated peel of 1 orange … Continue reading →