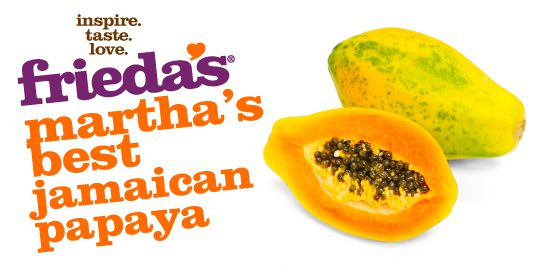 Overview
What is Martha's Best Jamaican papaya?
Grown with care under the warm Jamaican sun, this special papaya is about the size of a softball with uniquely freckled skin. The orange-red flesh has incredible flavor — like a tropical peach. It's possibly the sweetest "strawberry" papaya you've ever tasted.
Non GMO.
How to Eat
Enjoy fresh out of hand, or add to fruit salads or smoothie. Cut off the top of the stem end, then half the fruit lengthwise. With a spoon, scoop out and discard seeds. For papaya slices, cut each half lengthwise, then peel each long slice, then cut into bite-size pieces.
To bring out more flavor, serve with either a squeeze of lime (or key lime) or ripe passion fruit pulp.
Health Benefits
Excellent source of vitamins A and C.
How to Choose
Freckles and speckles are perfectly normal for this fruit. Green fruit will take up to 1 week to ripen; partially yellow fruit will ripen up quicker.
How to Store
Ripen at room temperature until at least 75 percent yellow. Refrigerate ripe fruit for up to 3 days.
When are they in season?
Where are they grown?
Recipes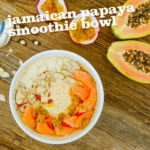 Jamaican Papaya Smoothie Bowl Ingredients 1 7-oz. container Greek style yogurt (such as Fage) 1 ripe Martha's Best Jamaican papaya, peeled, seeded, and cut into chunks Pulp from 1 ripe passion fruit Honey and lime juice, to taste Optional toppings: … Continue reading →
Save
Save