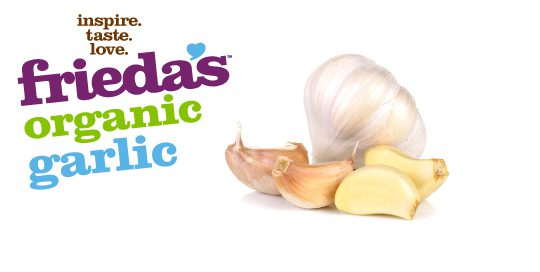 Overview
What is Organic Garlic?
Affectionately nicknamed "the stinking rose," garlic has been used for over 7,000 years. Native to central Asia, garlic has long been a staple of Asian, African, Mediterranean, and European cuisines.
How to Eat
Remove outer skin and slice, dice or mince garlic into sautés, sauces or any dish you'd like!
Roasting directions: Arrange bulbs on a greased baking pan. Bake at 325 degrees for 1 hour or until cloves are very soft; cool. Loosen skin on one end of cloves and squeeze contents onto baked potatoes, vegetables, hot bread or broiled poultry.
Video
Health Benefits
Garlic is said to have anti-inflammatory, diuretic and laxative properties.
How to Choose
Choose plump, firm cloves with unbroken sheaths.
How to Store
Store unrefrigerated in a cool, dry place up to 4 weeks.
Recipes
Ratoutille Ingredients: 2 tablespoons olive oil or cooking oil 2 small Frieda's® Elephant Garlic Cloves, minced 1 medium onion, halved, thinly sliced, and separated into rings 1 medium eggplant, peeled and cut into 1-in. cubes 1 28-ounce can stewed tomatoes … Continue reading →
Nutrition