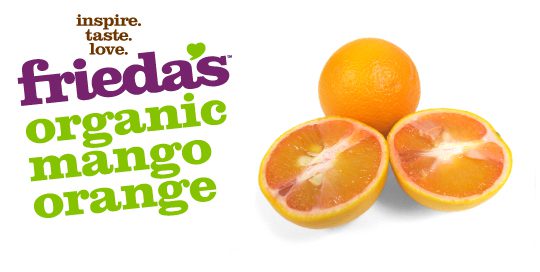 Overview
What is a Vaniglia Orange?
Known in Italian as Vaniglia Sanguigno–"Vanilla Blood"–this unique variation of the orange is sweet with very low acid and a hint of vanilla aroma. This round, medium-sized orange has smooth rind and large seeds, but what sets it apart is the internal flesh which has a pink hue that extends into the center of the fruit.
Yes, they're organic!
How to Eat
Enjoy out of hand, or peel and slice into salads. Also excellent for juicing and garnishing.
Health Benefits
Excellent source of vitamin C.
How to Choose
Choose oranges that feel heavy for their size.Give a gentle squeeze to make sure it's firm–not rock solid or mushy.
How to Store
Store in a cool, dry place and use within 1 week of purchase. Refrigerate for longer shelf life.
When are they in season?
November through February
Where are they grown?
Recipes
Fruit Basket Crepes Ingredients: 8 Frieda's French Style Crêpes, at room temperature 2 Kiwifruit or gold kiwifruit, peeled and diced 1 Asian pear, cored and diced 2 ripe bananas (or try red bananas), peeled and thinly sliced 1 navel orange … Continue reading →