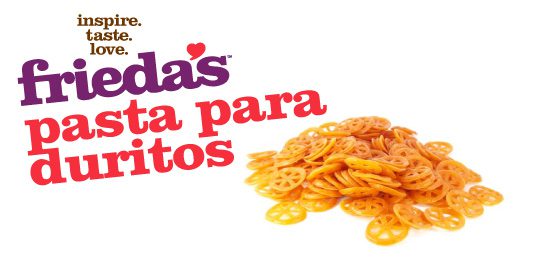 Overview
What are Pasta Para Duritos?
Traditional wheat-based Mexican snack food that puffs up when fried and enjoyed like potato chips or popcorn. Also known as duros or Mexican wagon wheels. When cooked, Duritos have a light, airy consistency similar to fried pork skin.
How to Eat?
 They are best prepared by frying in oil, and adding salt, chile sauce, and lemon or lime juice to taste. They can also be microwaved, dry, for 30 seconds to 1 minute.
Health Benefits
A lower-fat alternative to pork rinds.
How to Store
Store in an airtight container in a cool, dry place up to 1 year.
When are they in season?
Where are they grown?
Product of U.S.A. and Mexico
Recipes
Perfectly Puffy Pinwheel Snacks Pasta Para Duritos are a traditional wheat-based Mexican snack that look like dried pasta, but puff up when fried or microwaved with a light, airy consistency like fried pork skin. Here are two simple ways to get … Continue reading →