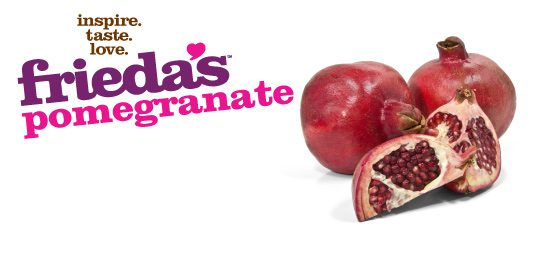 Overview
What is a Pomegranate?
Pomegranates are among the most ancient of fruits, dating back to the Old Testament. This leathery, red-skinned fruit are filled with a myriad of tiny, tangy-sweet edible seeds compartmentalized between shiny, tough white membranes. This juicy-crisp fruit is a favorite among children.
How to Eat
Enjoy seeds (arils) alone as a super healthy snack, sprinkle on salads and desserts or use to garnish sparkling drinks and cocktails, such as champagne.
How to Easily Get to the Pomegranate Arils (Seeds)
Cover yourself and the work surface well as the pomegranate seeds may stain clothing and counter top. You will need a cutting board, a knife, a bowl, and a wooden spoon or spatula.
Cut the Pomegranate in half along the equator.
Over a bowl, very gently stretch the fruit around the edges to loosen the arils from the fruit.
Flip the fruit over and hold it over the bowl, the skin side toward you.
With a wooden spoon, give the fruit several good whacks. The arils will fall right out into the bowl!
Internet Explorer users may not be able to view the video below.
Health Benefits
Great source of fiber and vitamin C.
How to Choose
Choose heavy fruit with bright colored, smooth skin.
How to Store
Refrigerate up to 2 months. Arils can be refrigerated and frozen.
When are they in season?
North American season is late summer to fall, but pomegranates are available almost year-round from other parts of the world.
Where are they grown?
Product of U.S.A. and Chile.
Recipes