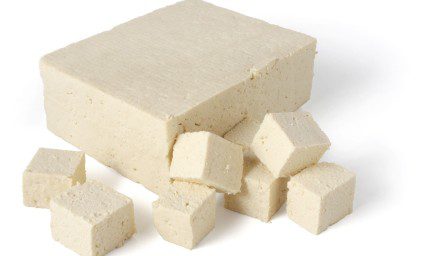 Tofu
Tofu is prepared from soybeans that are cooked and puréed. It has a mild, nutty taste that takes on the flavor of whatever it is cooked with. Tofu is available in both soft (smooth) and firm textures.
trending now
Normal is boring...try one of these unique products for an inspiring new food experience.
[tab:Overview]
How to Eat
Tofu is an excellent meat substitute in stir-fry dishes. It takes on the flavors of the ingredients being cooked with it. Use firm tofu when you want it to hold its shape, as in adding chunks of tofu to noodle soups. Use smooth tofu when you want to blend it with something, such as a smoothie or dessert.
Health Benefits
How to Choose
Choose scaled packages within code date.
How to Store
Keep refrigerated and use within expiration date on package. Place unused portions in water in an airtight container and use within a few days. Tofu can be drained and frozen;  when defrosted, it will have a denser texture.
Season
Where made?
[tab:Recipes]
[associated_posts]
[tab:END]
Save