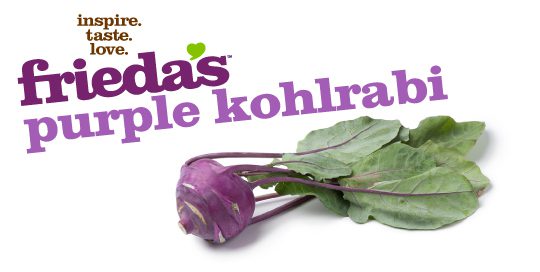 Overview
What is a Purple Kohlrabi?
This bulbous vegetable is often referred to as the cabbage turnip, but with the virtues of neither. The bulbs, whether green or purple, are sweeter, juicier, and crisper than turnips, with the mild flavor of broccoli stems. The leaves may be cooked and have a kale-collard flavor.
Also available in baby size.
How to Eat
Peeling is optional. Kohlrabi is refreshing when sliced and served raw with dips or added to salads. It can also be parboiled, hollowed and stuffed, or simply steamed and served lightly seasoned.
Health Benefits
Kohlrabi is low in saturated fat and cholesterol.  The purple pigment provides added antioxidants.
How to Choose
Choose small or medium sized bulbs free of cracks.
How to Store
Refrigerate wrapped up to 1 week.
Recipes
Rainbow Bibimbap We turned the traditional Korean rice bowl into a veggie love fest for two with purple cauliflower "rice" and a sunny-side-up egg. Serves 2 Ingredients Green Onion Slaw (see below) 1 head purple cauliflower, trimmed and chopped into … Continue reading →