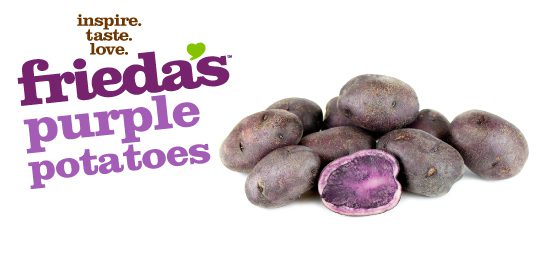 Overview
What is a Purple Potato?
These are small to medium sized with a dark brownish-violet, thin skin and a bright purple flesh. The bright interior color mellows with cooking. Purple potatoes get their vibrant color from certain minerals in the soil. They are similar in taste to russets.
How to Eat
Bake, boil, mash, fry, or use in potato salads. They will loose much of the purple color after cooking.
Health Benefits
How to Choose
Choose firm, non-sprouting potatoes.
How to Store
Store in a cool, dry, dark, well-vented area up to 1 month.
Recipes
Purple Potatoes Au Gratin Ingredients: 3 tablespoons olive oil or cooking oil 1 cup chopped onions 1 tablespoon chopped Frieda's Fresh Thyme, or 1 tsp. crushed dried thyme 1/2 teaspoon salt 1/4 teaspoon pepper 1 pound Frieda's Purple Potatoes, peeled … Continue reading →
Nutrition