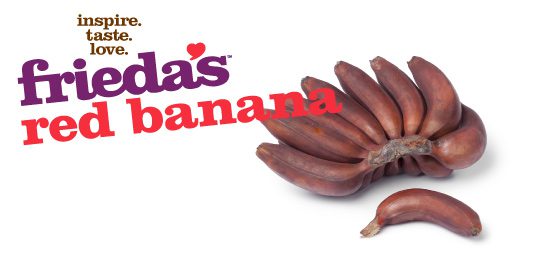 Overview
What is a Red Banana?
The Red Banana is squattier and heartier than the yellow banana. Red banana has a purplish or maroon skin when ripe. The flesh is cream-white color with a hue of light pink or pale orange. It has a slightly sweeter taste than a yellow banana and is not as astringent.
How to Eat
Enjoy alone, add to fruit salads or use in recipes calling for bananas.
Health Benefits
Good source of vitamin C.
How to Choose
Choose fruits relatively free from blemishes.
How to Store
Ripen at room temperature until soft.
When are they in season?
Where are they grown?
Product of Mexico, Colombia, and Ecuador
Recipes
Fruit Basket Crepes Ingredients: 8 Frieda's French Style Crêpes, at room temperature 2 Kiwifruit or gold kiwifruit, peeled and diced 1 Asian pear, cored and diced 2 ripe bananas (or try red bananas), peeled and thinly sliced 1 navel orange … Continue reading →
Banana Filled Egg Rolls with Custard Sauce Ingredients: 4 large bananas Half (16 ounce) package Frieda's Egg Roll Wrappers (8 Wrappers) 2 ounce (2 squares) semi-sweet baking chocolate, chopped; or ¼ cup chocolate chips or 1/4 cup chopped Frieda's Crystallized … Continue reading →