Did you know that the first "marathon" was run in Greece? Yes, the idea for a modern marathon was inspired by an ancient Greek messenger who raced from the battlefield site of Marathon (a city in Greece) to Athens, a distance of about 40 kilometers or nearly 25 miles, with the news of an important Greek victory over an invading army of Persians in 490 BCE. As the legend goes, after the long run and making his announcement "We won!", he collapsed and died (please note, there were other complications). You can read the historical details of the marathon race here.
So why am I writing about the Athens Marathon? Because on Sunday, November 14, I got to watch my partner Jack finish his 100th marathon, when he completed the famed Athens Marathon. Let me repeat that—he completed his 100th marathon! It's almost impossible to comprehend someone running 100 marathons, but that's what he did—completed a race of 26.2 miles (or 42 kilometers) 100 times! That's a lot of miles on your feet!
Although the run was delayed by a year (due to COVID travel restrictions), the anticipation, training and excitement of traveling to Greece for my first time was amazing. Frankly, with all the ups and downs of vaccinations, travel restrictions, work responsibilities, etc., the trip didn't seem real until we boarded our flight at LAX on Monday November 1.
We did have time to tour Athens, including a hike up to visit the Acropolis, the Parthenon, the New Acropolis Museum (gorgeous and amazing), the National Archeological Museum and more. After two days in the city, we boarded a cruise ship to spend eight days visiting ports in Greece, Sicily and Sardinia (both now part of Italy) and ended in Barcelona, Spain. And then we flew back to Athens to prep for the marathon.
As you may recall, I have been running/walking and completed four half marathons during COVID, so when Jack casually mentioned that I should sign up to run the Athens 10K the day before his marathon, I readily agreed. However, as it turns out, I did minimal training for the 10K. But I think I had enough walking and running miles from the last few months, that after extensive stretching the day of the 10K (as my leg muscles were quite tight from all the travel), I got dressed and we walked over to the starting line for a 5 p.m. start. Yes, the 10K was run the night before the marathon. It was exhilarating to line up with almost 10,000 other runners from around the world. Lots of selfies, lots of warm-up and so many different languages being spoken!
But the best part of running the Athens 10K was that the finish of the race was run into the Olympic Stadium. THE Olympic stadium! When full, the all-marble stadium seats more than 69,000 people (it is home to two of the biggest sports clubs in Greece). Due to COVID restrictions, there were probably less than 5,000 people when I ran into the stadium, but the bright lights and the finisher clock were motivating and rewarding! Plus, spectators are lined up throughout the route cheering you on. As I got ready to enter the Panathenaic Olympic Stadium hundreds of complete strangers were cheering "BRAVO! BRAVO!", which definitely made that last quarter mile more bearable.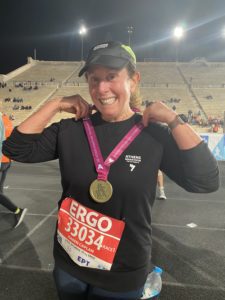 But the real treat was witnessing the more than 10,000 runners who ran the full 42K (26.2 mile) marathon. Although running the AUTHENTIC Athens Marathon (they call it the "authentic", aka the "original") is on many runners' bucket lists, it is not as sexy or fun as one might imagine. First of all, you get bussed 26 miles to the outskirts of Athens to the rustic farming community near Marathon at 6 o'clock in the morning. There are no crowds, no music, no scenery. You wait around for two hours in the chilly weather until the race starts at 9 a.m. And then the first 18 miles of the running route back to Athens is uphill, which can be especially hard.
But I am guessing the excitement of completing a more than 25-year journey of running marathons, and knowing you are finally at the finish line—so to speak—kept Jack motivated and excited!
I waited at the finish line (inside the Panathenaic Olympic Stadium) for Jack until I saw him enter. I had been standing there for about an hour (his finish time was just 6 hours), and noticed that when some runners entered the stadium, their kids, grandkids and some family members somehow were running with the marathoners to the finish line. And then I discovered that the small area where I was standing had a movable "fence"—and after watching a few other people "sneak" onto the track (and they didn't get arrested or bothered by the police)—I decided to make my break when Jack entered the arena.
As I stood there with my phone (camera) to catch a photo of him, I could see him looking for me in the stands (I had texted him that I was there) but he couldn't find me. Until he saw me on the track! When he ran to where I was standing, I was able to run with him the last 100 yards or so to cross the finish line together. Talk about a feeling of elation!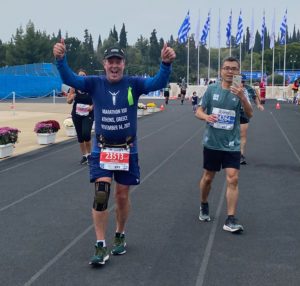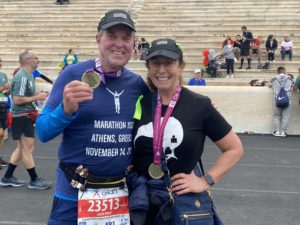 As I reflect upon how I ended up running the Athens 10K and Jack running his 100th marathon, I can't help but think about the importance of goal setting.  And how those goals can evolve over time. My first 5K was more than 20 years ago. One and done. I never thought I would be physically able to run a 10K, let alone four half marathons in the last 18 months. But, I put them on my annual goal list, starting in 2020, and then again in 2021. I knew to complete them, I would have to train on a regular basis. So, I started tracking my running and walking daily and monthly, and I am able to hold myself accountable for what I set out to do at the beginning of the year.
Jack ran his first marathon at age 46, with no goal in mind. He then entered and ran a few more marathons before he saw a fellow runner with a "Ran All 50 State Marathons" on a t-shirt. He caught up with the runner and asked him about it. The runner told him there is an online "tracker" where you can register your runs and become one of less than 1,000 runners who have completed marathons in all 50 states. So, he set that as a goal.
Jack completed his 50th state marathon in New Jersey a few years ago, along with completing marathons on all 7 continents (another goal).
Now, at age 72, he can finally cross those marathons off his bucket list.
Do you have a bucket list? How about an annual goals list (please do not call them new years' resolutions). Does your goal list include fitness goals? As we enter December, you might be thinking about what you want to set as goals for yourself for 2022. Perhaps you might consider adding a few fitness goals. So many people put on their goal list how much weight they want to lose. And most of us lose enthusiasm for that within a month or two. What about shifting your focus to fitness?
How about weekly or monthly fitness goals? # of times you exercise each week. # of Peloton rides. Average resting heart rate. # of rounds of golf or tennis.  # of hours of sleep each night.
These are just some of the goals I have set for 2022. I'd love to hear what your goals are!
Karen
P.S. I was pleased to hear that the 100th marathon was Jack's last. After a few weeks, Jack set a new goal for 2022: run a half marathon (13.2 miles) each week for the whole year! What a crazy (but fit) guy!