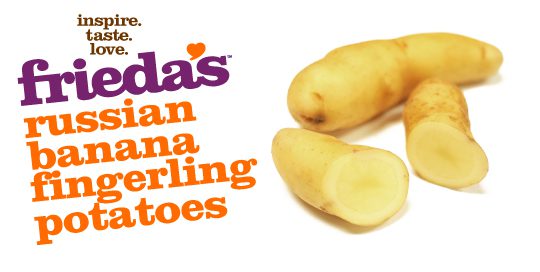 Overview
What is a Russian Banana Fingerling?
Russian Banana Fingerling Potatoes are the most popular of the fingerlings. Medium-sized slender tuber with yellow skin and creamy firm flesh, this potato has a buttery and nutty flavor.
How to Eat
Try them baked, roasted, grilled, steamed, fried, sautéed, boiled or mashed. Perfect roasted with olive oil or in any recipe where potatoes are needed.
Health Benefits
High in vitamin C and potassium.
How to Store
Store in a cool, dry place away from all sources of light. Do not refrigerate.
Recipes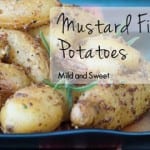 Mustard Roasted Fingerling Potatoes Ingredients: 2 (1.5 pound) bags Frieda's Fingerling Potatoes (any variety), halved 4 tablespoons olive oil, divided 3/4 teaspoon salt 1 teaspoon black pepper 6 teaspoons whole grain Dijon mustard The zest and juice of 1 small … Continue reading →